Queer Monologues empower LGBTQ+ community on campus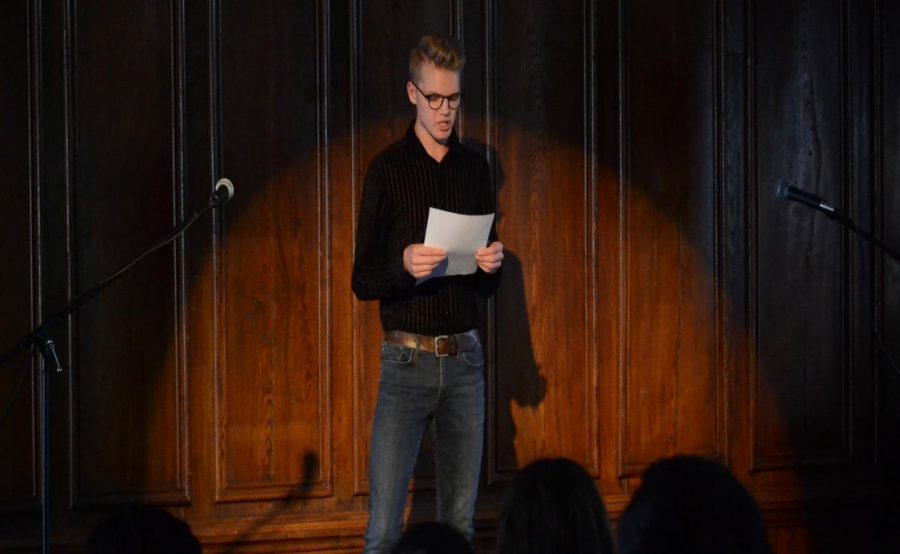 Rebekah Lindsey, Staff Writer
May 2, 2019
This past weekend, Union Pride performed their fourth annual production of the Queer Monologues. Traditionally, the monologues occur during the same weekend as the annual pride walk. The Queer Monologues are a rare and beautiful opportunity for allies and members of the LGBTQA+ community to find a voice in a heteronormative academic institution.
The Queer Monologues are a compilation of various stories, passages and literary pieces written by individuals who identify as lesbian, gay, bisexual, transgender, genderfluid, pansexual, asexual or any other sexual identity that is queer. The monologues celebrate sexuality, pose important questions regarding societal acceptance, explore family dynamics and presents various inner anguishes, pleasures, dangers and difficulties.
Ty Eddington '21 began the monologues with "An Open Letter to Eve Ensler (Men Have Vaginas Too)." This piece recognized the importance of Ensler's work while criticizing the large gaps in the intersectionality of her work and in her inclusivity towards transgender and genderfluid individuals. Eddington spoke with authority, emphasizing that "some women have penises and some men have vaginas… genitals does not equal gender."
Eva Erickson '21 gave captivating performance of her original work, stunning the audience. She paid tribute to queer lives and stories in history, paying tribute to the past. Erickson's words dripped with consequence and emotion.
Natalie Gullo '21 discussed the internal debate regarding sexuality, asking "Am I queer enough?" Gullo intricately discussed the daily process of gender identification, each day looking in the mirror clinging to masculinity or femininity.
She discussed the archetypes placed on each sexual and gender identification that exist even within the LGBTQA+ community.
Haley Newman '22 described an interaction, an argument even, with her hairdresser. She had chosen to cut her hair short, meeting protest even from a stranger, resiliently stating, "It is my hair." She shared with the crowd society's tendency to pair physical traits to certain sexual identities. A woman with short hair is automatically assumed to be gay, a lesbian, or rather, a "dyke." Newman said she could choose to be with a woman to satisfy her community's newfound expectations for her, but she chooses instead to stay true to herself. She ended with "my body and my hair do not define me."
Sam Fogarty's '20 monologue was almost lyrical in nature. He says, "Meet me at the greenhouse," describing in detail the luxurious, natural love and peace of being with another and thus, being aware and existent in the truest form of the self. He said again, "Meet me at the greenhouse, where I first was me."
Sarah Tritt '20 ended the show with a piece regarding the process of coming out. Tritt discussed the importance of LGBTQ+ presences to exist in mundane life. She spoke about a gay family friend, elaborating on the importance this friend had upon allowing the radical idea that being gay is okay to flourish within her home life.
Tritt's words bled from her lips as she articulately dreams about a day when we in the LGBTQA+ community will be able to exist without being perceived as inherently different. This is when we will find freedom.