Union Jazz Ensemble concludes return of in-person Steinmetz Day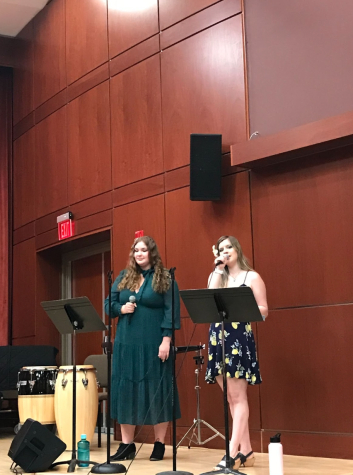 The Jazz Ensemble performance at the Taylor Music Center concluded the 32nd Annual Steinmetz Symposium. Directed by Professor Tim Olsen, who has been with the college since 1994, the ensemble marks the finalizes of the return of in-person Steinmetz performances and presentations in lively and cheerful applause. The ensemble performed a variety of songs from classical jazz to ones choreographed by its own members. 
The Jazz Ensemble comprises students as well as local community members. Prof. Olsen says that as the college is slowly recovering from the repercussions of COVID-19, the ensemble is greeted with new revitalizing talents. This includes alto sax Grace Canepari '25 and guitarist Aarón Carretero Benites '25. 
When asked what the motivation was behind joining the ensemble, Carretero Benites says "I've been playing the guitar for twelve years, and Jazz is a music that involves coordination. If I weren't here, I wouldn't be able to perform the instrument I love." 
Canepari responds "I always loved it in high school and I love music." To Canepari, being part of the ensemble and playing music "is so fun and great, especially after COVID-19."
Despite challenges from COVID-19, Prof. Olsen thinks that "When we finally all came back together in Spring 2021, it was very special because I was seeing kids I hadn't heard play live for a whole year. I think we've recovered pretty well, and if COVID doesn't stand in our way, next year we should have an even larger group than our current size of about 13." 
Performing on Steinmetz Day is special to the Jazz Ensemble because the ensemble has been performing on Steinmetz ever since Prof. Olsen arrived at Union in the 1990s. "It's an opportunity to play for an audience that might not get a chance to see us at other times of the year," Prof. Olsen says.