Theater & dance department announces plan for the 2022-2023 year
The Theater and Dance department of Union College conducted its first open house for all students and faculty of the college on September 13. The open house started with the Senior Lecturer of Theater and Dance, Scene Designer and Interim Artistic Director of the department, Andrew Mannion, informing attendees regarding the plans of the department this term. 
Keeli Sheridan, Lecturer of Theater & Dance Artist in Residence in Acting/Performing joins Union this fall and also serves as the director of the fall production of Midsummer Night's Dream. When asked what are the expectations from the productions, Sheridan says,
 "There are a lot of either adaptations of classical work this term or work that refer to a period in history, and I am very interested in exploring how that speaks to a contemporary audience." The Midsummer Night's Dream production is going to take place on November 2 through 6 at Yulman Theater.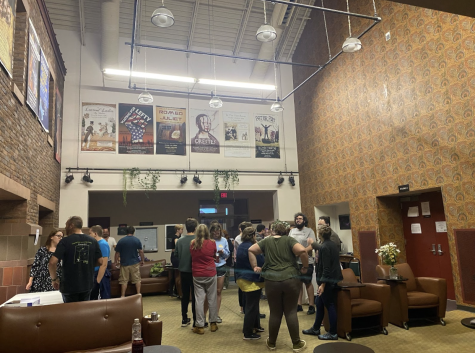 Professor Brittney Belz, Senior Lecturer of Theater and Dance and the interim Chair of  the Theater department, says that "the biggest plan is to get as many different students as are interested in arts at Union all coming into the building and making and enjoying theater and dance." When asked if it will be challenging, Belz responds "it will be challenging as when you get a bunch of people together, everybody has different ideas and they want different things out of the experience and they have a different amount of time and energy to put into it."
First-year students at the Open House also express their expectations for the Theater and Dance Department. Ayden Crispe '26 expects the theater department to serve as a "supportive community" and a place where she can express her  "creativity." Mollyjane Boyle' 26 wants the whole experience to be "fun and comfortable."
Along with the production of  Midsummer Night's Dream, the department will hold a master class in dance at the Henle Dance Pavilion on Thursday, October 20. It will be conducted by Limon Dance Company in collaboration with Union.  These will be followed by the FallU Dance Showcase which is going to be held on November 11. In the winter term, the Theater and Dance department will do a staged reading of the new adaptation of Pride and Prejudice by Kate Hamil and the dance department will produce a Winter Dance Concert. The auditions for the winter dance concert are set to take place on October 7 and the auditions for the staged reading are yet to be announced.