Shakti and Bhangra Dance the Garba Night Away
A Celebration of Indian Culture at Union through Dance
Filled with a night of laughter and joy, the Bhangra Union and Shakti Club organized a Garba Night to celebrate the festival of Navratri. Students were taken off campus to the Afrim's Sports Park in New York. The transportation was also provided by the clubs.
The festival of Navratri, which originates from India, was meant to introduce the community to Indian culture. Its impact can be seen across the globe. 
Breaking down the word itself, 'Nava' means 'nine', and 'Ratri' means 'Night'. Navratri, also known as Durga Puja in some parts of India, is a nine-night (or ten-day) long festival which celebrates the victory of good over evil. The festival celebrates the victory of the Hindu goddess Durga over the demon king Mahishasura. It more broadly celebrates the divine feminine, shakti.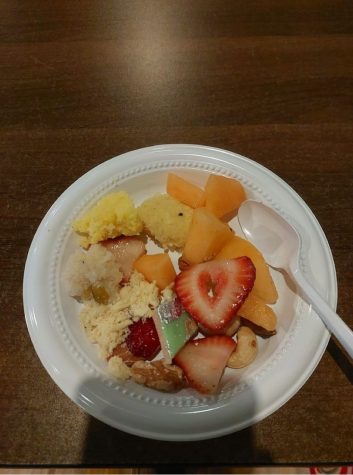 Union College students had the opportunity to take part in various traditions. For instance, students learnt dances such as Garba, a dance that honors womanhood and is mostly characterized by different side-to-side sweeping motions and Dandiya, a dance that uses sticks as a recreation of the battle that took place between the goddess and the demon king.  They danced to the tunes of various Gujarati Folk songs such as 'Sanedo' or 'Dholida Dhol' and to folk versions of Bollywood songs such as 'Kamariya' and 'Nagada Sang Dhol'. Prasad, a food that is given as an offering to the goddess, was also tasted by participants as well. 
Both international students as well as domestic students were taken on this trip. International student Shriya Biswas, '26, shared "The garba night was one of the most memorable days that I had since I came to the US! Although my family was not here with me this time, my friends did not let me feel any void. I feel so glad to have experienced an Indian tradition in a new country and extend my thanks to the Shakti and Bhangra Union for organizing this."