From May 17 to 21, Union's Theater and Dance Department put on a production of the play Sweat by Lynn Nottage. The play featured actors and crew from all class years, and was directed by Jean-Remy Monnay of the Black Theatre Troupe of Upstate New York.
"This production is so important to me because I get to work with the students and crew who are such a pleasure to work with (I love them), and experience together the issue of race, struggling family, love, forgiveness, relationship, survival, immigrants and the working class in America," Monnay said in his Director's Note.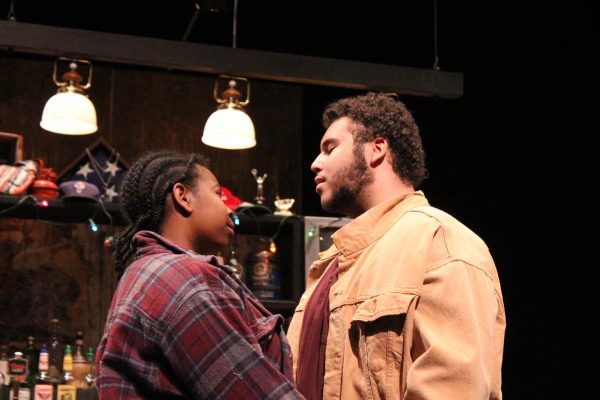 Sweat takes place in a fictional bar in Reading, Pennsylvania in 2000 and 2008. It follows a group of friends who work at the local steel mill, but are torn apart when one character, Jessie, gets promoted to management and the rest of the characters are laid off from their jobs. The play is inspired by Nottage's interviews with residents and research into Reading, Pennsylvania. The play was produced on Broadway in 2017 and won the Pulitzer Prize award for drama.
Two students, Melanie "Mel" De La Cruz '26 and Spencer Newman '25, served as Co-Assistant Directors of the production. The assistant directors viewed this as an opportunity to grow and bind with their castmates. "It's been a great learning experience. I've never assistant directed or understudied before, so that's been really cool." Newman said.
Story continues below advertisement
"This show has meant so much to me. It opened up so many opportunities, not only for learning experiences, but bonding experiences as well," De La Cruz said. "It has been absolutely beautiful to see more of the campus to come together, like people of color, along with people from across all departments, to come together to make this beautiful work of art be on stage."
Other students found different values in the production. "This show is extremely special to me because this is my last show with the Union College Theater Department," Sarah Wright '23 said. "This show is also extra special because it hits so hard at home. I grew up in a small town, and so I know Tracys, Jasons, Oscars, I know all these characters."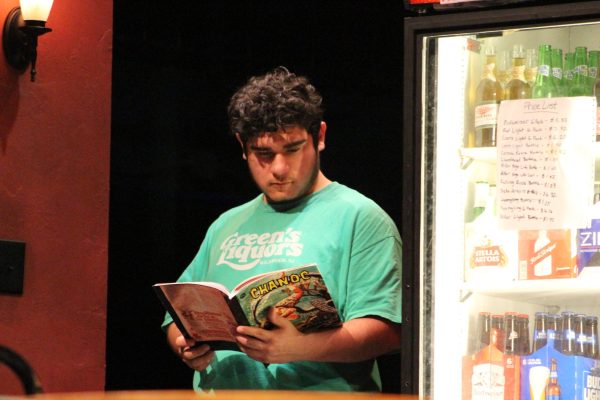 Many actors had acted in Union productions before, but Union's production of Sweat brought new experiences for many crew members. Alanna Byrne '26 had extensive experience in acting but little experience in behind the scenes work before they became an assistant stage manager. "They are super excited and grateful for the opportunity to learn about theater from the produc- tion side of things," Byrne said in their cast bio.
Many actors and crew expressed their thanks to friends, family, and one another in their respective cast bios.
Union's theater and dance department also looks forward to their next production in the fall term, FLORIDITA: my Love by Javier Antonio Gonzalez, Directed by Jorge Luna. Students will be able to audition for the production or join the backstage crew in fall 2023.
This article was originally published in the print edition of Concordiensis on May 25, 2023.