Dutchmen Blow Out Bentley Falcons
The Union College Dutchmen beat out the Bentley College Falcons 5-1, delivering a decisive defeat by overwhelming Bentley's defense. The Union game against Bentley October 13 had quite a large turnout despite the rainy and grim weather. This game is one of only 3 home games offered this season at Union as a general season game. 
The first goal came quickly at 14:55 in the first period where Union scored from Tyler Watkins '24. Another goal came at 19:21 from Watkins again, thus allowing two goals within the first ten minutes of the game from Watkins in the first period. There were huge cheers from the crowd during these early minutes of the game and the momentum and cheer continued throughout the first period and rest of the game. Fans were audibly excited about Union's early two-point lead. By the end of the first period, Union attempted 20 shots on goal, compared to 5 from Bentley, revealing the Dutchemen's offensive dominance of the ice.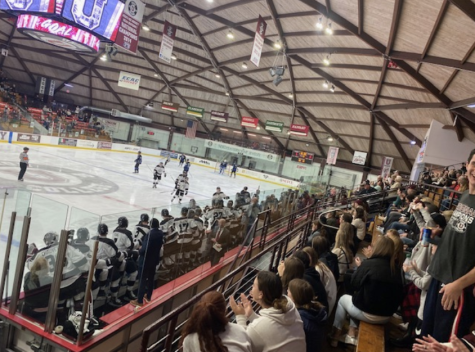 Union's offense did not let up in the second period either. The Dutchmen scored another goal early in the second period at 12:03 courtesy of Caden Villengas '25. This was followed by a fourth Union goal in a row at 21:04 in the second period scored by Chaz Smedsrud '24. By this point in the game, both the fans and Dutchmen saw the game as a blowout, with Union's lead of 4-0 insurmountable. This was reflected in Union's continued offensive push; by the start of the third period, Union had 40 shots on goal, compared to Bentley's mere 13. 
At 16:32 in the third period, Nate Hanley '26 buried a fifth goal for Union. With 1:15 left in the game, Bentley was able to score their only goal, but Union won 5-1 in the end. There was a large crowd of excited students present who stayed for the end of the game and much excitement as the Dutchmen claimed victory. 
Special pride of place goes to the Union offense, which was able to thoroughly dominate the game for all three periods. While Watkins was unable to claim a hatrick, the game saw multiple impressive goals from the Dutchmen.
Union will have another home game on October 29th against Rensselaer as that series will occur the weekend before Halloween. The current record is 2-3-1 for the Dutchmen. This means that the Dutchmen have won both of their games at home, while being less successful at away games. While Union's offense proved able to save the game at home, the team did not fare as well against RIT on Saturday, where it was defeated 5-8, showing that while the Dutchmen have an impressive offense, their defense could still use work.