Rugby Team Swept after Accident Breaks Lineup
Union College Men's Rugby Club team played against Middlebury College resulting in a tough loss not only in score but in personnel after two of Union's lineup, Jacob Dilorio '23 and Andrew Jones '24, were sent to the emergency room seven minutes into the game following a head-on collision which had both on the ground and needing stitches. Union ended the game in a discouraging loss to Middlebury 32-0.
Dilorio and Jones were replaced after their injury by Drew Lavin '25 and Jacob Hernandez '25, who played out the rest of the game. Union, despite lacking a large portion of their lineup, saw the rest of the team stepping up to fill the gaps left over. In response to failing morale, Ryan Rockenbach '23 delivered a fiery speech that re-energized the Union players.
The game, which occurred on Saturday, September 24, saw a number of outstanding performances from the Union team, despite the ultimate end. A stand-out series of plays from the match came early from Union's defense as, over the course of several plays, attempts on Middlebury's behalf to score what seemed like an inevitable goal were thwarted as the Union defense pushed back in a battle of attrition right at the line, before the Union defense was able to produce a swift counter, pushing Middlebury completely out of the zone.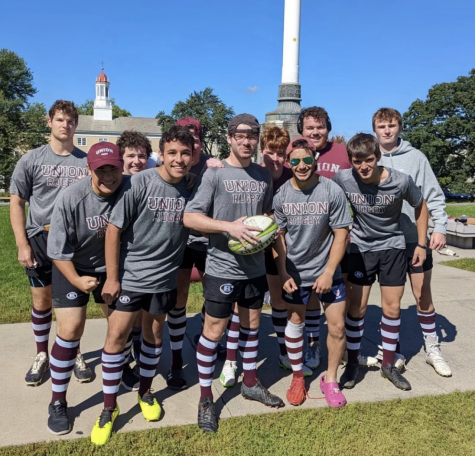 Despite a first half that left the Union team with a shaky morale, the Union team put on an impressive display of perseverance in the second half. However, the new players on the field stepped up to face Middlebury, and the scrum team were able to improve their record, only losing one scrum during the entire half.
Several Union players played a commendable game. The Union player of the match was Mason Baruch '25. Although a veteran of the vlun, Baruch was forced to play some new positions from what he had previously played due to injuries of Dilorio and Jones. However, he played them excellently, making huge runs down the field and stopping critical plays from Middlebury.
The Union Forward of the match was awarded to Antonio Suer '24. He commanded the defense and was able to make an impressive drive down the field while shaking off three of Middlebury's tacklers in the second half of the game.
The Union Back of the match was James Whalen '26, who had consistently been hustling up and down the field with lots of rushing yards and a spectacular tackle which saved Union five points in the first half of the game.
Despite these smaller victories, Union's team was still outperformed by Middlebury. With the loss of two players, the team proved unable to score even a single point. With the return of both Dilorio and Jones after their release from the hospital, it is hoped that the club will return with a victory in their upcoming games.