Union Women's Volleyball Defeats Skidmore 3-1
Union won a spectacular victory against Skidmore, winning their match with a score of 3-1 in a best of five match.
The players of the Women's Volleyball team played a game in especially good form. First-years Shannon Mcgrath '26 who played Outside Hitter, and Georgia Pool '26, Libero, were especially lauded. McGrath had also been given the distinction of being named Liberty League Performer of the Week the previous week for her success in Union's game against SUNY Oneonta. 
More than simply the team's first-years being commendable, all the players on the team were in especially good form. Pool anchored the defense really well throughout the game. Mcgrath was referred to as the "kill leader" with all her superb spikes. Nikki Newcomer '24, who played Outside Hitter had her best game of the season for now going on par with McGrath. DeneshaLafontant '23, the Middle Blocker, was a crucial part of Union's victory with her preventing Skidmore from sending their attacks over. 
The first set of the match was a back-and-forth game with both teams going neck and neck although Union came out on top. The second set was also a very close game with both teams reaching the twenties as it turned into a race for who gets the five points first. However, Union was able to pull ahead here as well. It was in the third set that we saw Skidmore making a comeback. Like the previous sets, Union, using its momentum from the victory of the previous two sets, had a strong start. Skidmore fought back and took the lead away from Union and then maintained it throughout, ultimately winning the third set.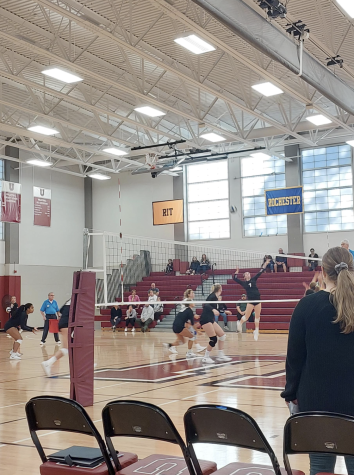 The fourth set was a rollercoaster ride. During the first half, both teams were racking up points one after another. If Skidmore scored, Union scored immediately after that and vice versa. After the slow start, Union surged forward and took the lead and maintained it even though in the second half Skidmore did make up some of the points. Union clinched this set, ending the match.
The September 24 match against Skidmore was Union Women's Volleyball's second conference match in the Liberty League this year. The day before, the team lost its first game in the Liberty League to St. Lawrence University with a score of 3-1.