Club Lacrosse wins national championship
Since its inception, the Lacrosse Club has gone through a period of stagnation where the Club failed to hit the ground running. Now, however, they are the newly crowned Empire Conference Champions and Fredrick Cup winners. 
According to Club Lacrosse leaders Devon Halliday '22, Matthew Bidgood '22, and Jamie Munsen Rice '22, these wins are the culmination of over "ten plus years of hard work and determination."
"We played well on Sunday," Halliday says. "To get into the championship was the greatest thing ever," Bidgood adds, "we put in so much time into this team, and winning the Empire Conference, holding the Frederick Cup was the ultimate reward." 
Halliday also mentions that "there were many parents and family who were there to watch. They were happy that their children had something to be a part of at Union."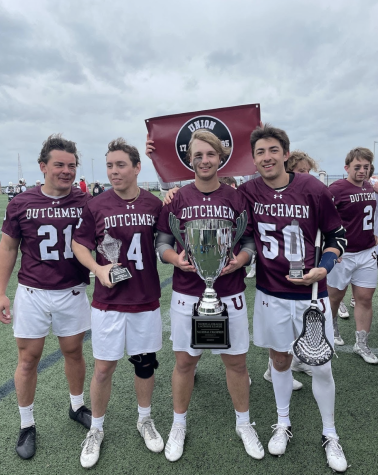 The Club itself is ten years old, but its journey begins only about four years ago. When as first-years all three of them, inspired by their love of lacrosse banded together to become members of the club. 
Their passion and love for lacrosse set off this lightbulb in their head as they sought to elevate and expand the Club. This journey brought along several roadblocks in the shape of injuries, logistics and COVID-19. 
"COVID-19 hit in our sophomore year, when we really tried to start," says Bidgood. "We couldn't get everything going until this year, when we finally were able to get things running."
Halliday adds that "it was a long time coming. People made attempts early on, but injuries, COVID-19, and etc. didn't work out."
However, these roadblocks barely slowed them down as their unrelenting and spirited attitude made them want to do even more. The foundation had been set, but this year as uncertainties eroded away everything seamlessly fit into place.
"This year, as things normalized, we had more opportunities to make the team formal and have success," Halliday concludes.  
They commended their team and its unrelenting and spirited attitude throughout their journey. All of whom ensured that the spirit within the camp remained lively throughout the tournament. United by their love and want to play lacrosse all players played their roles to a tee. When asked if they wanted to give a special shout-out to anyone, they were at a loss for words. 
The list of people they wanted to mention was extremely long, however, they spoke glowingly of their goalies that allowed them to pursue an attacking mindset because they knew how secure they were at the back. Furthermore, they extended their gratitude and thanks to Lauren Dougherty—former head of Student Activities—who set the ball rolling, as well as Katie Davin and Matt Milless, the current Assistant Director of Student Activities and the Assistant Dean of Students, who greatly assisted them with the logistics aspect of the Club.
Dubbed the "Creator's Game," these wins have created a legacy for the future club. They collectively have raised the glass ceiling and serve as an inspiration for anyone passionate about anything. Their legacy will live on through the Club as they seek to elect a whole new E-Board that will hopefully build on the platform that the current team has helped craft. 
For any interest in joining Club Lacrosse, contact [email protected], [email protected], or [email protected].