Union Adapts as Reamer Repairs Progresses
With the flooding at Reamer Campus Center more than a week ago, more information about the current and future status of Reamer has been solidified. At the same time, students have begun to adapt to the new dining situation. A full restoration of services in Upper Dining and at the Reamer Auditorium is not going to occur soon. However, work on restoring services in Reamer continues, and while the mapping of water damage in the space is almost complete, there is still no definite timetable on when students will be able to return to Upper Dining.
Regarding repairs to the building and the transition of dining services to elsewhere, Concordiensis spoke to Assistant VP for Student Affairs Matt Milless, Director of Hospitality Tim Forte, and Director of Facilities & Campus Development Marc Donovan '05.
The current stage of the repairs to Upper is the process of water-mapping. Industrial hygienists have been contracted and have been involved in attempting to find water. Their role in finding water is almost done, according to Donovan. The next step will be to have architects survey the space, that in turn to be followed by the actual process of construction. While engineers and architects have already walked the space, Donovan hopes that by the middle of next week the full scope of the work will be known and future plans will be more solidified. 
The imminent end of the water-mapping process is a big step. Says Donovan, "Triage is over. And we are looking at a 'how do we look forward' approach." But what lies in the future is still mostly unknown. Repairs to the two most damaged areas, Upper Dining and the auditorium below it are expected to take time, but there are no details on how much time. Regarding reopening Upper Dining, Donovan commented, "There is a substantial amount of work that would be required to make it available." But that information does not come with a concrete timeline. 
In the meantime, students and staff have been accommodating to the changes in dining services. While other areas in Reamer Campus Center reopened days after the building flooded, Upperclass Dining Hall did not. Students and Dining Workers were sad about its closure, but also grateful for how administrators handled the situation.
"It's a little devastating, I believe that the day crew did an awesome job trying to get everything acclimated and set up and repositioned for the students to have a second option to come and eat," Maureen Matthews, the Upper Dining Hall night cashier, said.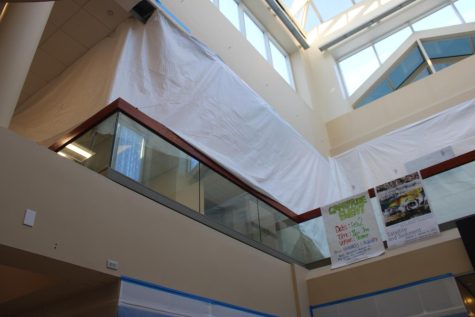 Says Oliver D'Anna '26, "It's quite an unfortunate situation, obviously unavoidable, I'm just very thankful that we have such great facilities staff to make sure it gets fixed in as much of a timely manner as possible. Obviously, I'm very disappointed and quite frankly it's quite an inconvenience but they'll get it done." 
The shift of dining services was accomplished very quickly. Following the flooding at Reamer, dining services were established in Rathskeller and College Park Hall within a day. In less than a week, services were restored to Dutch Hollow and the Garlic Nott. 
The origin of the damage was a sprinkler main that burst due to freezing temperatures over the night of February 4-5. Water sprayed from a 2" sprinkler pipe joint in the student seating section of Upper dining at two locations on the south side of the building. From there it spilled down, infiltrating mostly the auditorium. Sprinkler functionality has since been restored.
The Reamer auditorium and Upper dining are the two areas most heavily affected. Both have been significantly stripped down "to the studs." There was water infiltration on almost every surface in those areas. Water further infiltrated into the WRUC fish-bow through the floor and walls, but no equipment from that room was damaged, and broadcasting has been maintained. 
Dining options on the first floor of Reamer as well as the seating there were closed temporarily in an attempt to guarantee that those areas had not been damaged or contaminated. 
With Upper Dining closed, other facilities have felt the impact. Traffic has increased significantly in other dining areas, such as West Dining Hall. Union's dining hall staff shifted the functions of Upperclass dining hall to College Park Hall's ballroom and kitchen, an area further away from most campus buildings. Before the incident, 1,300 to 1,400 meal swipes would be counted in Upperclass Dining Hall each day. On February 6, the day after the incident, 647 meal swipes were counted in College Park Hall that day, according to Maureen Matthews, the Upperclass Dining Hall's night cashier. 
By contrast, the traffic in West Dining Hall doubled during the lunch and dinner hours, according to Janis Maggs, the Manager of West Dining Hall. This past Monday, February 13, when Concordiensis representatives went there for lunch, they were told there was little seating space available. 
Janis Maggs, the Manager at West Dining Hall, expressed optimism for these changes on campus: "I think everything is calming down and people are adapting, and I think operations are getting back to normal up in Reamer so you'll have those opportunities to go to Dutch and the [Garlic Nott]." 
Joyce August, the dining hall worker who manages the Market, said she felt "sad" about the closure and looked forward to its reopening. 
The feeling of sadness was also shared by members of the student body. "It's kind of sad, I hope it's not for too long. I really like going [to Upperclass Dining Hall in Reamer] and this is kind of a janky set up, but maybe it'll get better as time goes on, who knows," Daniel Buletza '26 said. 
The dining situation has already begun improving. Four out of the five dining locations in Reamer reopened in phases. On February 9, the 807 Deli reopened, followed by Dutch Hollow and the Garlic Nott on February 12, and on February 13, the Market and Dutch Hollow's Ushi (Sushi) Bar reopened. By February 13, all areas in Reamer Campus Center had resumed normal operations, except for Upperclass Dining Hall and the Reamer Auditorium. Rathskeller, which is under Old Chapel and had temporarily served the functions of Dutch Hollow, resumed normal operations on February 14.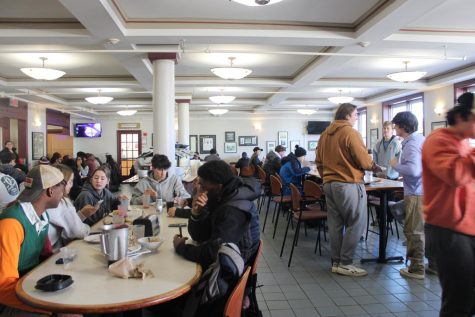 There is still a level of irresolution in the dining service. At College Park Hall, paper plates are still being used. This is not due to a lack of infrastructure, assured Tim Forte, but rather a logistical consideration. The continued use of paper plates means that there is a possibility that it is simply not worth bringing large numbers of plates down to CPH. Should that occur, it may be an indication of a longer period of construction in Upper dining. But it is still too early for Hospitality to make a determination about that.
There are further no plans as of right now to make further renovations to Upper dining than are strictly necessary. The planned renovation of Upper, originally meant to occur over the summer, is a distinct issue from the current immediate renovations that must occur. The restoration of services is to occur first. However, there are again no details as to the timeframe in which this might occur. Forte made clear that Hospitality is following the lead of Facilities. Saya Donovan "Dining, quite frankly, are just on the rollercoaster with us." But despite the pace of that roller coaster, Forte lauded the ability of the Hospitality staff to operationalize CPH for dining services within 12 hours, and at Rathskeller, even sooner. 
Less serious for students, but equally serious for the functionality of Reamer, the auditorium at Reamer will likely remain under construction for some time. All of the chairs and furniture have been removed from the space, says Donovan. In the strictest terms, this means "There is no functional use in the auditorium." It is unclear what this means for events held in this space, or for classes normally held there.