Political Science Professor named as the Pitzer College's 7th President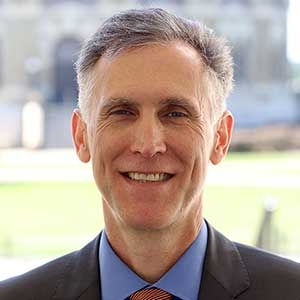 Dr. Storm C. Thacker was named the seventh President of Pitzer College on December 13. 2022. Pitzer College is a private liberal arts college in California and a member of the Claremont Colleges, which are a "consortium of seven private institutions of higher education located in Claremont, California, United States." Dr. Thacker will begin his presidency on July 1, 2023. 
Professor Thacker joined Union in 2016 and served as a Professor of the Political Science Department. Over the course of seven years, he also served as the Stephen J. and Diane K. Ciesinski Dean of Faculty and Vice President for Academic Affairs. 
Concordiensis reached out to Professor Thacker regarding his experience at Union. 
How would you describe your experience in Union as a professor and a dean? What did you enjoy the most about these roles?
I have loved my time at Union. It's an exciting, dynamic, and also welcoming place. I went to a liberal arts college as an undergraduate, and that sense of community and shared mission is a big part of what drew me here. Both have been great at Union, and I have been so fortunate to experience it from the perspectives of both an administrator and a faculty member. I have really enjoyed and appreciated being part of the leadership team and making an impact at that level to help develop and advance the College's strategic goals, as well as being back in the classroom with our great students and engaging in research and service with my faculty colleagues. I know Union is going to continue to thrive, and I'll be following it closely and with affection from the west coast.
What was the one thing about the campus that stood out to you since day one? 
You mention the campus, and that itself is a big part of it. Physical spaces matter and Union's is among the most beautiful campuses I've seen (and I've seen quite a few). Looking out of my office window right now I have a stellar winter view looking to the west, spanning across Old Chapel, the Nott, West, Feigenbaum Arts, and Reamer. I never tire of the view, especially when the cherry blossoms block part of it in the spring.
What advice would you give to Political Science majors at Union?
Political science is such a useful field of study. Learning about the exercise of power in all its forms is crucial to developing the analytical and critical thinking skills that will feed a lifetime of curiosity and success. In terms of advice, be sure to dig both deeply into your areas of interest and also broadly across them. The more you do both, the more connections you will find and make across them, even much later in life.
Lastly, what are your expectations from your new role?
As much as I'll miss Union and especially its people, I'm excited about this new opportunity. I'm from California originally but have not lived there for many years, and I went to Pomona College, which is part of the Claremont Consortium along with Pitzer. So in many ways, it will be something of a homecoming for me. But more importantly, I'm looking forward to helping advance Pitzer's mission and values, which I think really stand out in today's higher education climate with their focus on interdisciplinarity, student engagement, and sustainability. It really fits well not only with my own approach to higher education but also where I see that sector's most promising future.
Concordiensis also reached out to Professor Thacker's colleagues who congratulated him on his new role.
"Anyone who has worked with Strom knows he was bound for a college presidency.  He is intelligent, hardworking,  and compassionate.  He used these attributes to help guide the College through major policy changes and unprecedented challenges.  We in the Political Science Department are sad to lose him as a colleague but thrilled for both him and for Pitzer College.  Congratulations, Strom!" 
— From Bradley Hayes, Chair and Associate Professor of Political Science 
"Dear Strom … On behalf of the faculty and staff in Academic Affairs, I want to thank you for all that you have done to serve Union and wish you the best in your exciting transition to Pitzer College! You relocated with your family from Boston to Schenectady, learned about our community, and advanced a number of important initiatives to strengthen Union. Equally notably, you helped navigate the College through the onset and most challenging phases of the pandemic. We appreciate all that you gave us, and, again, wish you well."
— From Michele Angrist, Vice President of Academic Affairs and Dean of Faculty. 
"Many congratulations to you.  This is amazing news for you and for Pitzer College, but bittersweet for us.  I personally love to see people's goals and dreams come together in a way that suits them, and this sounds just perfect for you.  I am genuinely excited for you and wish you all the best!" 
—From Laurie McGill, Administrative Assistant History and Polticial Science Departnment . 
The staff of Concordiensis congratulates Dr. Thacker on becoming the President of Pitzer College!