Busy bees: Union College's Beekeeping Club in the time of COVID-19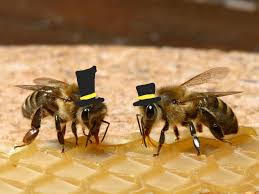 Meetings for clubs–while the COVID-19 pandemic is active–have been difficult. Every club has had to make concessions in order to meet online and prevent the spread of COVID-19, and this has been no different for Union College's Beekeeping Club.
"Beekeeping Club is a small but dedicated group of individuals interested in not only the care and keeping of bees, but maintaining an ecologically diverse community on Union College's campus,"  according to Gabriela Basil '22 who is the Co-President of the club along with Tara Kristensen. It was founded in 2018, according to Nathalie Gullo '21, who states that in the club "we take care of the beehive on campus by working with students and professors who have experience with beekeeping." Gullo has been part of the club since her freshman year, whereas Basil has been there only for two.
"Not many colleges keep bees! I found that to be a really interesting and unique part of Union College's culture," states Basil in regard to why the club is special. "It also goes to show the commitment this community has to environmental preservation, as bees are one of the most important creatures on this earth." In addition, Gullo cites that the ecological impact of the bees is important too; "[Bees] are also amazing pollinators which give us the food that we eat! Having them on campus is important not only to increase the bee population, but to give aspiring beekeepers and entomologists valuable experience."
Due to COVID-19, the Beekeeping Club has seen somewhat of a decrease in participation. "The biggest struggle we have faced, in my opinion, is that we haven't actually been able to keep bees this year," states Basil. "We have to order hives in the spring, so that the bees have adequate time to make enough honey to last them through the winter, but last spring, campus was shut down, so we have to wait until this spring. We also haven't been able to host our typical events; we used to have a Honey Day, where we would serve honey-related foods out of Upper Class Dining for the evening. That was always a really popular event, as well as our hive tours, where non-members get to see the hives up close, and learn about beekeeping." If COVID-19 were not an issue, Gullo states that the Beekeeping Club could have extraction parties and "use a centrifuge to extract honey from our hive; we then put it into jars, and unfortunately can't sell it on campus because it contains a bacteria that is potentially harmful to children." As a side note, Basil states that beekeeper suits wouldn't be helpful in preventing the spread of COVID-19, as "the face part of the suit is made of mesh. It's fantastic at keeping bees out, not so much any germs."
With the campus quarantine having ended on Friday, January 29th, it seems that things are beginning to slightly go back to normal. Despite this, Union students are advised to remain vigilant and not take any risks health-wise. Once the restrictions on clubs are lifted, hopefully the Beekeeping Club will be able to meet again and bring the fascinating world of beekeeping to the Union students once more. "Just remember that bees are friends, as well as wasps," states Basil. "Despite their nasty stings, they are both efficient pollinators, and help get rid of a massive amount of pests in the environment." The Beekeeping Club is looking to host an alumni speaker panel at some point during the Spring 2021 Term, so do keep an eye out for that.