Virtual Union Pride Week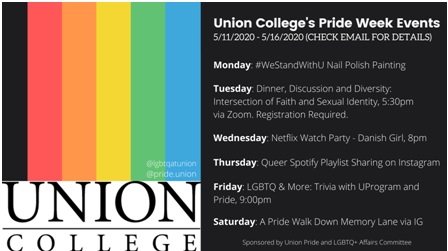 On May 11, the #WeStandWithU Nail Polish Painting kicked off Union College's Pride Week. Students shared pictures and videos painting their nails, an event that was held on campus last year in response to "increased discrimination and homophobia on our campus" that was mentioned in an email from Eva Erickson '21 via Campus Events. Throughout the week, Union Pride encouraged students and staff to "demonstrate solidarity with your [their] LGBTQ peers and show that Union does not tolerate hate."
This year, there was a "Dinner, Discussion and Diversity: Intersection of Faith and Sexual Identity," a Netflix Watch Party, a Queer Spotify Playlist Share on Instagram and a Trivia Contest hosted with UProgram and Pride. The week-long celebrations ended with "A Pride Walk Down Memory Lane" via Instagram. Different groups on campus found creative ways to participate such as Delta Phi Epsilon making a Tik Tok of the sisters passing a bottle of nail polish from video to video. 
President of Union Pride, Eva Erickson said, "I've been really impressed and excited about the positive responses that our Pride events have been getting amongst both the students and staff. I know it's difficult to take the time out of our already-busy days, but this tangible support means so much to the LGBTQ community at Union. It's not very often that we have the opportunity to outwardly express our identities and celebrate our accomplishments, and I think it's important that we take the time to show solidarity all the time, not just during Pride Week." She hopes to see continual advancement of resources and spaces for LGBTQ individuals by administration, not just the students themselves. 
There was also the opportunity for students and staff to donate to The Pride Center of the Capital Region in Albany which "provides critical programming for LGBTQ individuals and families in the forms of support groups as well as transgender and non-binary specific resources."
Emails were also sent out requesting art submissions to be shared in the Wikoff Student Gallery in the Nott Memorial. The exhibition will be entitled LGBRTQ+ in 2020: OUR Voices Matter. The exhibition will focus on LGBTQ+ rights and transgender youth, the gallery is encouraging entries to be related to these topics, according to the gallery's official website.