Recreating the Campus, One Block at a Time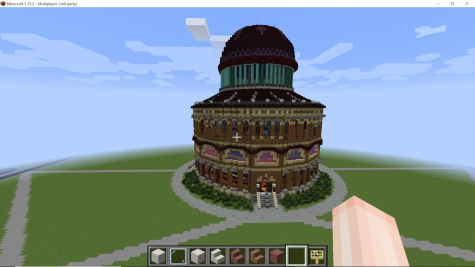 Being away from Union can be difficult for a lot of students, for a variety of reasons. Being in a quarantined lockdown due to a deadly virus is certainly not how anyone would like to be spending spring term. Even with that being the case, there still is a way for us all to connect and go to Union's campus––even if it's not exactly what we had in mind. 
Union College's Minerva Program has teamed up with Gaming4U to virtually recreate the Union College Campus in Minecraft, a popular video game that has been around since 2011. The Minerva Program is responsible for the event itself, while Gaming4U is more specifically tasked with administration over the Minecraft server. The game is an open sandbox survival game, in which you can build structures, fight monsters, and craft gear to survive in a hostile world. One of the notable features about Minecraft is the creative mode, in which the player gains access to infinite resources to create whatever they like. This has led to people recreating famous architecture or statues in the virtual world, and now Union students can collaborate to create their campus.
Students Leo Ferrari '23 and Sebastian Koch '23 are responsible for brainstorming this unique event. Koch is an electrical engineering major and the co-chair of Beuth House's council, while Ferrari is a computational neuroscience major and the other co-chair of Beuth House's council. According to Koch, the reasoning behind their decision to recreate the campus in Minecraft was "[Leo] thought a good idea which had community connectivity and would be cheap was Minecraft, so we took that idea and made it related to Union." On April 25, the project kicked off with a virtual launch party. According to one of Gaming4U's co-presidents, Andrew "Gio" Giordano '21 , the launch party "was successful, and the server has been running very well since then." Koch states "we had about 10 people join at that time which I consider to be a win for an online event, and we have about 50 unique individuals who have been on the server." 
If a student would like to get involved on the server and help build the campus, the easiest way to do so according to Koch is "to fill out the form sent from campus events," and if a student wants to get more involved "they can sign off on any part of campus that they would like to create." According to Ferrari, "the server has 24 hour uptime so people can join whenever and contribute." If a student wants to get involved further though, it would be more efficient for them to email Ferrari or Koch directly. Even if students do not have a Minecraft account, they can still get involved! The Minerva Program can provide a student with an account if they fill out the form and request assistance with gaining account credentials. Students who are unfamiliar with the way Minecraft works or how to play can be assisted by other students such as Koch. 
Gaming4U and the Minerva Program have both hosted a range of events during the quarantine that students can get involved in if recreating the campus does not suit their interests. For the Minerva Program, different houses have been working to keep students connected during the quarantine. Green House has started a pen pal program, while other houses have had cooking and movie nights to keep everyone together. As for Gaming4U, Gio states that "Gaming4U runs video game tournaments that consistently get around 30 students and we recently ran an online CS:GO Tournament with good attendance as well." They have a weekly game night on Wednesdays at 7:00 PM EST, and their regular meetings on Fridays at 1:00 PM EST. There is also a Discord that people can join, the link to which can be found at the bottom of Gaming4U related campus event emails.