New visa policies impact international students and alumni
International students from Union have been impacted by changes in visa regulations. In May 2019, President Donald Trump proposed stricter regulations for H1B visa approvals that would prioritise foreigners with an advanced degree from a U.S. university for a work visa than any recent undergraduate.
The H1B Visa, informally known as the U.S. work visa is an employment-based, non-immigrant visa for temporary workers. Every year, 60,000 international workers who can be undergraduates or graduates are granted an H1B Visa through a lottery system while an additional 20,000 visas are granted to individuals who have obtained their graduate degrees from any institute of higher education in the U.S. The Department of Homeland Security proposed to switch the order of these lotteries, which would improve the odds for those highly educated workers, the San Francisco Chronicle reported.
"A lot of things are going against our students right now. Firstly, these companies aren't eager to sponsor for the H1B. Secondly, these employers don't have the knowledge on how to hire international workers which puts more pressure on the students to themselves educate their future employers while they're in the job interview which goes against anything that they are taught at the career services since they're not supposed to tell their employers what to do" says Michelle Pawlowski, Assistant Director of International Advising, Union College.
"[Employers] don't know the other side of it, that it's easy to hire someone else on an O.P.T. Visa (Optional Training Visa) or S.T.E.M. extension," said Pawlowski. An O.P.T. is a temporary employment authorization granted to international students completing their undergraduate studies on a F1 Student Visa in the U.S. This period may range from one to three years depending on the academic field the student graduated in. The O.P.T. approvals for international students at Union took on average four months to arrive after applications were submitted in March this year, according to Pawlowski. The O.P.T. program allowed 1.5 million graduates of U.S. universities to stay and work between 2004 and 2016, a study conducted by Pew Research reported.
"Even when an employer looks at the O.T.P., they conclude that they don't want to invest just one or three years in an employee when sponsoring them for long term positions might be tough," says Pawlowski. "The O.P.T. process has also been slower. From what I've been told, this is due to the backlog in Washington due to a short staffed USCIS which trickles down to SEVIS."
Across the nation, these regulations have resulted in a general loss of interest amongst prospective international students in pursuing higher education in the U.S., although Union College has not experienced this drop, according to Pawlowski.
NAFSA estimates the combined 10 percent decline of new international student enrollment cost the U.S. economy $5.5 billion and more than 40,000 jobs. According to the surveys conducted by NAFSA, some of the reasons for this are changes in the visa application procedure, uncertainty of securing a job and high cost of tuition. "Extra challenges in receiving or using student and work visas influence decisions of current and potential international students. If a prospective student feels it will be harder to stay in the U.S. to work after finishing their degrees, they may opt to study in a different country," says Talha Janjua'19, an international Union alumni. U.S. STEM jobs are expected to grow by nearly 11 percent between 2016 and 2026, faster than all U.S. occupations, TechCrunch reported. The new jobs will require a larger workforce which is significantly composed of International students and immigrants.
"Hopefully, the need will outweigh what the strict policies that have been put in place dictate," Pawlowski said.
About the Writer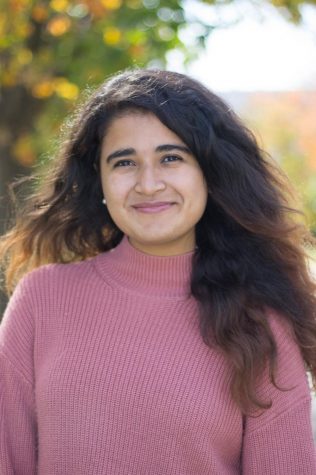 Akriti Dhasmana, co-Editor-in-Chief
Akriti Dhasmana '22 is the co-Editor-in-Chief for the Concordiensis. She is a Computer Science and English double major. She is also a Math Minor. Apart...