President Harris holds Study Abroad Meet and Greet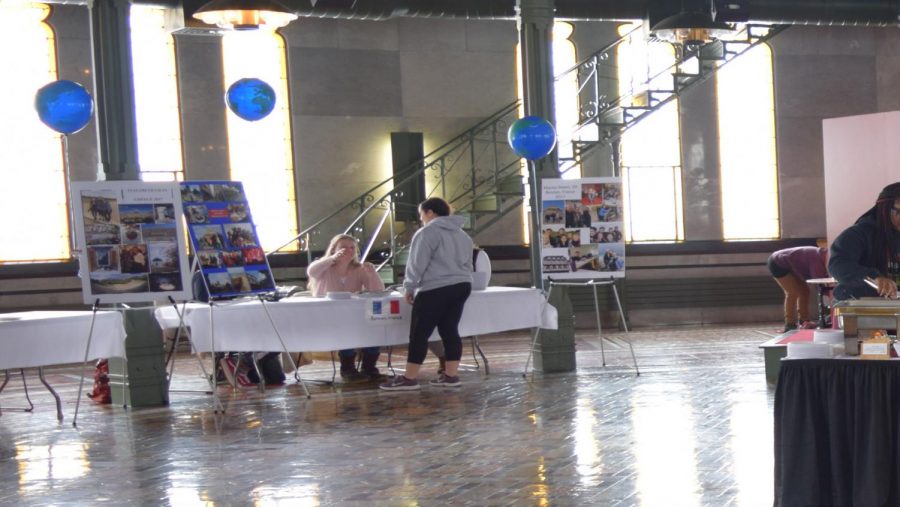 On Thursday, February 14, the International Programs Office hosted "Study Abroad Meet and Greet" in the Nott Memorial during common hour. The event was for students who were abroad fall term to meet President Harris and share their experiences abroad with him, members of the President's Office, and students.
"This event arose from the request of a Union student who was abroad this fall 2018. The student was interested in meeting President Harris this winter term, as he missed all the inaugural events on campus during the fall term while he was abroad. The President's Office thought this was a great idea and sponsored this event abroad this fall and the President an opportunity to meet one another. It also allowed the President a greater understanding of our fall study abroad offerings from a student perspective," Director of International Programs Lara Atkins said.
"I came here because, one, I wanted to meet the President for the first time and two, to show that I liked the term in Prague," Kayla Fisher '19 said.
The event started with a performance by the Garnet Minstrelles, the all-women's a capella group on campus, who sang, "Signed, Sealed, Delivered I'm Yours" by Stevie Wonder for Valentine's Day. Afterwards, Atkins gave a few words of introduction to the fair.
Afterwards, President Harris and members of the President's Office went around asking students about their time abroad. In addition to this, students shared their experience with each other and with various faculty advisors of terms abroad.
"I enjoyed talking with President Harris and hearing stories from other students who traveled abroad last term. The world is huge but very small at the same time through the people we meet and who change us. I'm lucky to be among a group of passionate Union students who get to share this experience," Jay Segee-Wright '20 said. Segee-Wright worked and studied in Shanghai, China last fall term.
The 11 programs represented at the fair were: Argentina, Australia, Belgium, China, Czech Republic, England, the France program in Rennes, Greece, Ireland and Vietnam. The terms in Australia, Ireland and Vietnam are cooperative programs with Hobart and William Smith College, done through Partners for Global Education (PGE).
Students made presentations, posters and other demonstrations of their time abroad and sat at tables with peers who went abroad with them. Dining services provided cultural specific cuisines at each table, often representative of what the students ate regularly while abroad. This food ranged from French fruit crepes to Japanese edamame gyoza.
More than 60 percent of students at Union participate in a abroad program, whether it be a mini term or a full term abroad, before they graduate. One of the core educational goals of the school is for students to attain a degree of "global understanding" in their studies. This is stated in the school's Strategic Plan and Educational Mission Statement, the latter of which cites, "opportunities to study abroad" as a way for students to receive a holistic education.
About the Writer
Alex Appel, News Editor
Alex Appel '21 is the News Editor for the Concordiensis. She is a History and Russian & Eastern European Cultural Studies double major with a Seward...