Dickens House hosts party for Charles Dickens' 207th birthday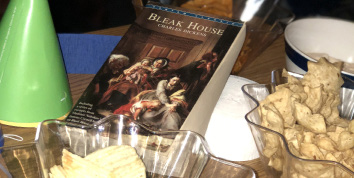 On Thursday, February 7, Dickens House hosted a celebration for the 207th anniversary of Charles Dickens' birth. The event took place in the house at 7:00 p.m. and was organized by Sarah Tritt '20.
"I think I first thought of it last term sometime. We were talking about potential events and I thought it might be fun to have one centered around Charles Dickens, since he's the namesake for our house. A birthday party specifically seemed like something unique we could do, and when I looked it up and saw when his birthday was it seemed doable," Tritt said.
Dickens House, which was founded in 2008, is one of 13 theme houses.
Like all theme houses, it promotes a common theme on campus. The 13 theme houses at Union have the combined capacity to house 130 students. Dickens House's theme is Literature and the house itself is named after famed 19th century author Charles Dickens.
At the celebration there were snacks, soda, gluten- free and vegan cookies and a cake with Charles Dickens' face on it.
Residents of the theme house also ran a game of trivia about Dickens' life. The game consisted of questions about his family, the names of characters in his books, past pen names of his and book titles. The teams with the highest scores got to pick out prizes.
"I went because I missed the open house and wanted to see what it looks like since I had applied to live there… but I had lots of fun with the trivia," Lydia Hursh '21 said. Her trivia team came in third place and was awarded the third movie in the Chronicle of Narnia series.
Theme houses host at least three events a year that are open to the campus in order to remain active.
"I thought the event went relatively well! Theme houses can sometimes have problems getting people to come to events but I thought we had a reasonable turnout and the people who came seemed invested in the games," Tritt said.
About the Writer
Alex Appel, News Editor
Alex Appel '21 is the News Editor for the Concordiensis. She is a History and Russian & Eastern European Cultural Studies double major with a Seward...