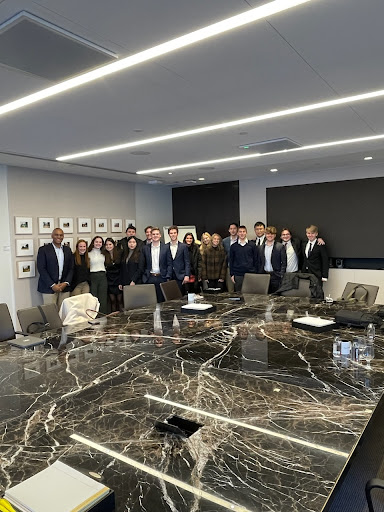 The Union Financial Network (UFN) is a two-week intensive program for students who are interested in a career in finance. Taking place in NYC, students will have opportunities to learn and connect with alumni, parents and friends who work in a broad range of associate-
ed areas, including investment and commercial banking, hedge funds, asset management, trading, corporate finance, private equity, venture capital, etc.
What do you like/ enjoy most about the program?
"As someone who isn't majoring in economics I really appreciated the opportunity to learn more about financial and economic concepts. I think that aspect of the program was the most beneficial for future conversations, and even those who are majoring in Econ still benefited from
the classroom session because of the focus on finance-specific top-ics." (Ashley Pontillo '25, ComputerEngineering/ math minor)
"The benefit of the program is that it has made the road to finance so much more clear. Coming in, I knew very little about the roadmap to getting into finance, but after talking with Alumni, it feels a lot more clear to me. The process has been made so much more approachable and
has given me a definite direction thanks to UFN." (William "Beck" Buchanan '25, Political Science/ Economic Double Major)
"The sites visit week where we get a chance to go to different investment banks, and consulting firms. Going to see professionals in their elements, experiencing the culture of each firm, and having a conversation with them offer a different dimension than something you would get from a classroom is something I enjoy." (Nic Castillo '25, Economic Major)
Story continues below advertisement
Biggest lesson you've learned so far?
"The biggest lesson I learned was the importance of networking and building relationships (Andrew Lau '24, Managerial Economics) and (Nic Castillo '25, Economic Major)
"The biggest lesson I learned is how to talk to alumni or anyone else in a professional situation. The program leaders, other students, and even alumni gave a lot of tips for how to come off confidently and show you're eager to learn. For example, don't drink coffee before an inter-
view, take a glass of water if offered, and if you don't know how to answer a question email them your answer later." (Ashley Pontillo '25, Computer Engineering/ Math minor)
"The biggest lesson I learned is that in order to be successful in finance, you need to make sure that you love it and can engage with your work on a daily basis." (Andrew Lavin '25, Economic Major)
How has UFN changed your perspective?
"UFN changed my perspective on the financial industry, specifically became more enlightened on what certain jobs are and learned what it was like for these people that have been working in finance for their careers." (Andrew Lau '24, Managerial Economic/ Data Analytic minor)
"Before going to the UFN bootcamp I felt uncertain about many things, such as feeling embarrassed to talk with new people, stressed to not have the right answer to a question and more. While I was in the boot- camp I realized that getting out of your comfort zone is necessary in order to understand how this industry works." (Sara Marenco '24, Economic Major)
"Before UFN I felt that there was a barrier of entry to the finance sector for people from liberal arts backgrounds. Seeing so many union alumni successful in finance, and  moreover seeing Union alumni eager to offer their support convinced me that this barrier can easily be
broken, and that I could one day find myself on wall street without majoring in business or finance at a university." (Andrew Lavin '25, Economic Major)
Any other comments? If you can, what would you change about the program?
"Overall I had a great experience during the program and if I could participate again next year I would. I would recommend the program to anyone that thinks they might be interested in the finance industry, even if they aren't necessarily interested in investment banking
or sales and trading. I wouldn't change much about the program except for the class structure. I think all of the information was very valuable and I wouldn't take anything out but sitting in a conference room for 8+ hours a day was a lot." (Ashley Pontillo '25, Computer Engineering/Math minor)