The Cost of Union, part 2: financial aid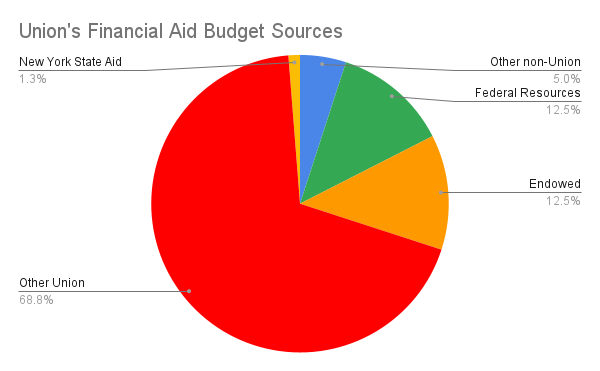 This article is the second part in Concordiensis's series: The cost of Union. This series will explore how Union generates its comprehensive fee, the logistics behind Union's financial aid packages, and the logistics behind Union's work-study program. This article will begin by exploring the questions: How does a family apply for and receive financial aid? How can a family appeal a financial aid package? How does the merit scholarship selection process work? 
The Concordiensis had a conversation with Linda Parker, the Director of Financial Aid, and Audrey Carlton, the Assistant Director of Financial Aid to discuss Union's financial aid program. The Concordiensis also consulted Union's 2022-2023 Common Data Set for additional information. 
For the 2022-2023 academic year, Union has over an $80 million budget to provide financial assistance to students. About $65 million comes from the college's own resources, including $10 million of scholarships endowed by alumni and donors. About $10 million comes from federal and New York state resources, including from federal pell grants, supplemental grants, work study wages, and student and parent loans. New York State also provides $1 million in merit or need-based aid to students. 
Union is also a need-aware institution, meaning they consider a family's ability to pay when making admissions decisions. However, If an applicant is "highly accomplished," they will not be denied based on need, according to Linda Parker, Director of Financial Aid, and Audrey Carlton, Assistant Director of Financial Aid. The higher a student's academic rating is, based on credentials such as GPA and course rigor, the more likely they are to be admitted without concern to financial need. However, if the admissions office "ends up getting to a point where we need 200 more students and spent most of the financial aid budget," students with lower academic scores and less need may be admitted over students with lower academic scores and more need. 
Families apply for financial aid by submitting two forms: the Federal Application for Student Aid (FAFSA) for federal financial aid, and the College Scholarship Service Profile (CSS Profile) for institutional financial aid. The college also requires W2 forms and tax returns. These forms take filled in data and generate an Expected Family Contribution (EFC), which then determines how much a family will pay. For example, Union's full cost for the 2022-2023 academic year is $79,722, and a family's EFC is $15,000; the family will receive $64,722 in scholarships, grants, loans, and work study wages, and pay the remaining $15,000. Sometimes, the CSS Profile and the FAFSA calculate different EFCs for the same family, because the FAFSA excludes home residences as an asset. Approximately 57% of all students receive need-based financial aid, according to the 2022-2023 Common Data Set. 
If a family is unsatisfied with their financial aid package, they can appeal if their financial circumstances change. For example, if a parent loses their job, the family can submit updated W2 forms, CSS profile information, FAFSA forms, or other documentation to the financial aid office. The Financial Aid appeals committee then meets and determines if the family will receive additional financial aid. 
Students at Union can be selected for merit scholarships ranging from $18,000 to $30,000 for the class of 2027. When a student applies to the college, the admissions team considers 5 factors for merit scholarship awards: course rigor, GPA, strength of the applicant's high school, class ranking (if available), and test scores (if submitted). If an applicant does not submit test scores or a class rank, the other factors are weighed more heavily. 29% of the class of 2026 submitted class ranking, and 55% submitted test scores, according to the 2022-2023 Common Data Set. 
Students are also able to appeal merit aid packages. Students typically apply and are accepted to multiple colleges, and sometimes receive better merit aid packages at other institutions; the financial aid appeals committee can consider these other merit aid packages and may adjust them based on the characteristics of the student and the strength of other schools that offered alternate merit aid packages. 
For new students, the financial aid deadline is the same deadline as the student applied for admission. For current students, the deadline to submit financial aid materials is May 5th, and merit scholarships are renewed automatically. The Concordiensis will provide insight on Union's work study program in part 3 of this series.