Schenectady YWCA Hosts Take Back the Night Walk
On Thursday, October 20, 2022, Students from AAUW, Union Pride, and A More Equitable Union attended Schenectady Young Women's Christian Association (YMCA)'s 33rd Take Back the Night walk. The Take Back the Night walk is meant to empower women to walk on the streets at night, typically a terrifying time for a woman to walk alone. This is part of YWCA's initiative to make women feel more confident during Domestic Violence Awareness month and to empower marchers to walk and make their voices heard on women's issues.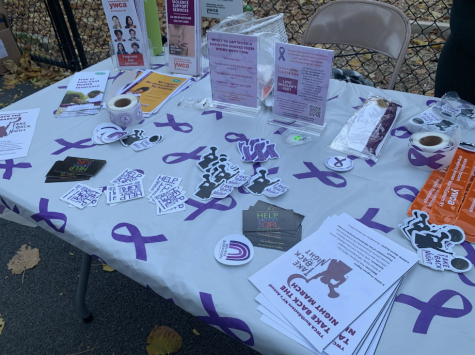 YWCA runs the only domestic violence shelter in Schenectady County. The march began there, as it is meant to coincide with October, Domestic Violence Awareness Month.
Union students first heard speeches from YWCA orators outside of the shelter about the purpose of the shelter, and its service to women, men, children, and pets. 
In addition to simply marching, marchers were able to collect signs from YWCA with protest chants on them.
"Relationships should not literally slay," one read. Gabriella Baratier '25, held a poster that read, "We are women, we are strong, domestic violence has lived too long!" 
Marching through Schenectady from the YWCA, down Erie Boulevard and State Street, walkers chanted together. "2, 4, 6, 8, no more violence, no more hate!," attendees chanted. "Join together, free our lives / we will not be victimized!"