New Title IX policy strengthens rights of the accused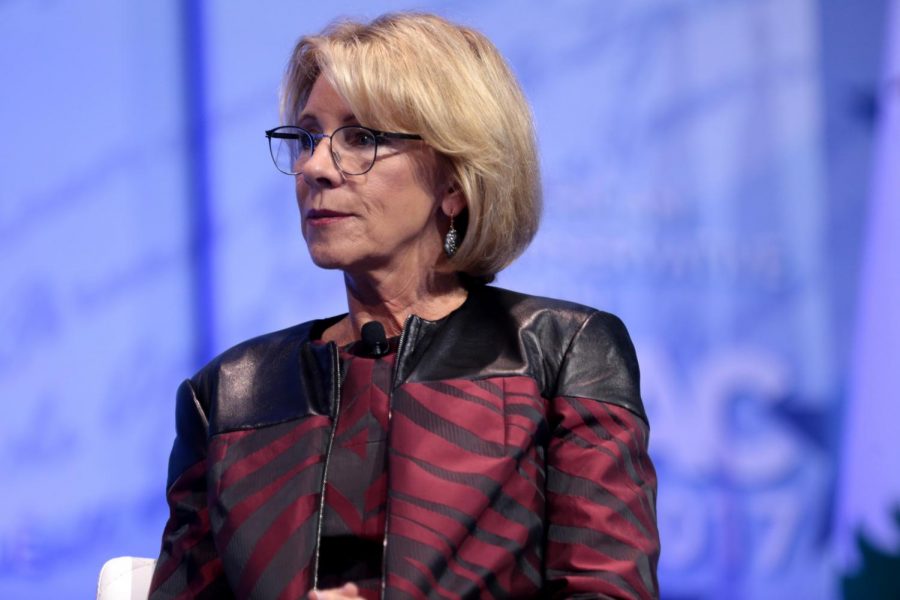 The U.S. Department of Education's (DoE)  new codified Title IX policy limits the definitions of sexual misconduct and assault and increases the rights of the accused. These new regulations were introduced on Wednesday, May 6; schools have until August 14 to abide by these standards.
"This new regulation requires schools to act in meaningful ways to support survivors of sexual misconduct, without sacrificing important safeguards to ensure a fair and transparent process," Secretary of Education Betsy DeVos said in a press release from the DoE.
Previously, schools were encouraged to judge accusations by what they deemed most likely to have happened based on the evidence presented in the trial. Now, colleges can continue this practice or raise the threshold of scrutiny in cases, according to a press release from the U.S. Department of Education.
"It marks the end of the false dichotomy of either protecting survivors, while ignoring due process, or protecting the accused, while disregarding sexual misconduct," Assistant Secretary Kenneth L. Marcus of the Office for Civil Rights (OCR) said in the press release.
There were 17 allegations of sexual assault at Union College in 2018, 15 of which took place on campus, the Daily Gazette reported. Five of these allegations went on to adjudication and in three of those cases the accused was found responsible. "No student was suspended or expelled," according to the Gazette. 
That same year two women, using the pseudonyms Jane Doe and Jane Roe, sued the school, alleging that their reports of sexual assault were mishandled. The majority of Doe's accusations, including her claim that the College was a "hostile" environment for women, were dismissed by a federal state judge. Doe's claim that the College mishandled her adjudication was not dismissed. Both suits are moving to mediation.
Under the new standards, un-welcomed conduct has to be "severe, pervasive and objectively offensive" in order to qualify as sexual harassment. Union's current definition of sexual harassment includes single-incidents, according to the 2019-20 Student Handbook.
Additionally, schools only have jurisdiction over sexual misconduct that occurs on-campus. Allegations concerning actions off-campus have to be at school sponsored activities and buildings which the institution has "substantial control." 
"The Title IX team is carefully reviewing the new regulations to assess the impact they will have on how Union and all other colleges and universities handle complaints of sexual harassment and misconduct," college spokesperson Phil Wajda said. "Consequently, we are working to implement the new rules in a way that protects the well-being and safety of our entire campus community and respects the rights of all involved."
Correction: A previous version of this article incorrectly stated that "Doe's claim that the College mishandled her adjudication was upheld," rather than having been "not dismissed." 
About the Writer
Alex Appel, News Editor
Alex Appel '21 is the News Editor for the Concordiensis. She is a History and Russian & Eastern European Cultural Studies double major with a Seward...