Statue of William Seward and Harriet Tubman currently being rebuilt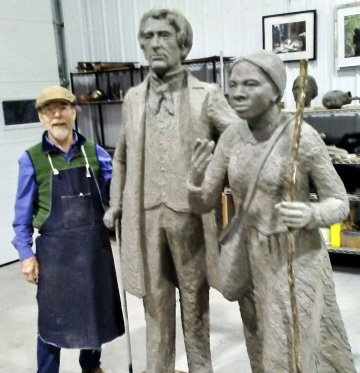 A statue of Union alumnus William Seward, Class of 1820, and abolitionist Harriet Tubman, that was previously scheduled to be unveiled in front of the Schenectady County Public Library in May of 2018, is currently back on track to reconstruction after a fire destroyed it on November 1, 2017.
The fire occurred in the studio of the sculptor Dexter Benedict just days after the County approved the statue.
Benedict's Mennonite neighbors helped him rebuild the studio and he was convinced to create the statue once again.
According to Union Professor Emeritus Frank Wicks, who arranged for the creation of this statue and has made significant financial contributions, almost 20 years of work has gone into this project.
The idea first came to him during a discussion with President Emeritus Roger Hull in the late 1990's. After the renovation of Seward Street and expanding housing on it, Wicks thought that it would be fitting to have a statue to commemorate the contributions of Seward.
While the Class of 2000 donated a monument in 2005 with an engraving celebrating Seward, Wicks had an idea for something greater.
"If you have a statue of one person only, it's a tribute. So, there's many statues of Seward that said he was Secretary of State and bought Alaska… there's many statues of Tubman that basically talk about her life and feats, but there's an element of this thing here that's not known: Harriet Tubman and William Seward were friends, which was improbable. The dichotomy was that Seward was a very prominent individual and Tubman was an escaped slave, but while she was helping other escaped slaves, Seward's home was a sanctuary on the Underground Railroad," Wick said.
This story was enough to motivate him to see to it that a statue of the two was created.
It was not until 2016 when Wicks got the idea to commission Benedict, the man who had created the Charles Steinmetz and Thomas Edison statue on Erie Boulevard and South Ferry Street and a bust of Steinmetz that he donated in 2016, that progress on the statue of Seward and Tubman began.
Wicks consulted local historians and garnered support from the community to fund the statue. In total, the statue costed approximately $62,000, about half of which Wicks personally paid for himself.
Since over 80 individuals donated to the fund, the statue will be engraved with, "By the People, for the People," in homage to Lincoln's Gettysburg Address.
He advocated for the statue to be put on Union's campus, but President Ainlay and a committee he formed eventually decided against the statue being placed on the Union campus.
According to Wicks, they believed that Seward belonged but Tubman, not being an alumnus, would be out of place.
"To me they were missing the point," Wicks said. "Schenectady is a great community and Union is a great community and I'm happy to see it in any place."