Dance program 'Colliding Shadows' poses big questions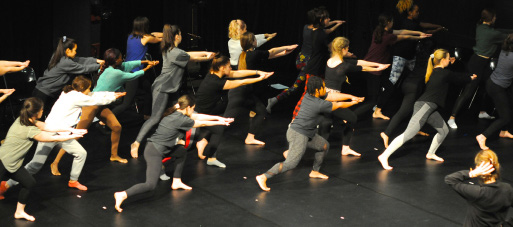 Miryam Moutillet, Staff Writer
February 22, 2019
"Nothing was your own except the few cubic centimeters inside your skull" – George Orwell, 1984
Inspired by Orwell's mid-century dystopian novel, 1984, 'Colliding Shadows,' this year's Winter Dance Concert, looks at changes that occur through loss, conflicts and the driving forces of activism.
Values are transformed; social divisions are prominent and political power is challenged.
Performances are Wednesday, March 6, through Saturday, March 9, at 7:30 p.m., with a Saturday matinée at 2 p.m., at the Yulman Theater.
'Colliding Shadows' will pose powerful questions: how is technology shaping the millennium? How is daily life scrutinized? Are we under omnipresent surveillance? And what do we truly own?
The dance-theater prduction, directed by Miryam Moutillet, relies on an arsenal of creative scenes. Among those contributing are Charles Batson and Laurie Zabele Cawley, and student choreographers Madison Altman '20, Shyan Brown '19, Carly Cherches '19, Sydney DeCesare '19 and Danielle Pinney '20.
"The stage will be a no-man's-land, a dreamlike state where 26 dancers will explore notions of chaos, solidarity and discontentment as well as revolutionary thoughts and strength found in unity," Moutillet said.
Tunics designed by Brittney Belz match each dancer's skin tone to show their uniqueness.
Andrew Mannion's projection and stage design create a timeless place where there will be no present, past or future. And lighting by Robert Bovard sculpts the moving bodies to highlight the sense of transformation.
Tickets are on sale at the Yulman Theater Box Office. The cost is $7 with a Union ID and $10 for the general public.
The box office is open Monday through Friday, 12:30 p.m.-1:30 p.m.