Visiting photographer focuses on intimacy and texture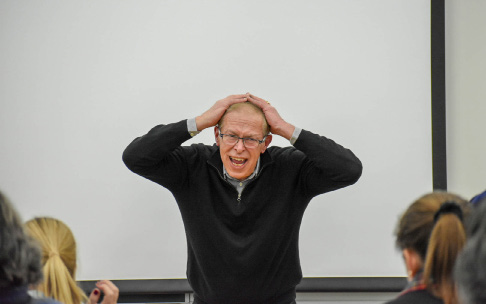 Rebekah Lindsay, Staff Writer
February 1, 2019
Hang on for a minute...we're trying to find some more stories you might like.
Mark McCarty visited Union College this week to discuss his work as a freelance photographer and to touch on his portraits that are currently being exhibited in the Visual Arts building aside Donna Fitzgerald's documentation of life in Vietnam and Italy.
McCarty believes photography enables remembrance as well as the creation of various fictional narratives. McCarty recognizes the distinction between the personal and the commercial, and the separation between the two is clearly visible in his work.
All of his commercial photography is skillfully completed, with perfect color, composition and focus. Although the work itself is not his personal passion. He shoots advertisements for everything from medicine to basketball to weaponry. This commercial work allows McCarty the funds to focus on artistic exploration through his more serious photography.
McCarty's personal work is quite breathtaking. After the birth of his first child, he shot two rolls of film each day, capturing the details of his life and the simple beauty of human existence. The shots were all captured spontaneously but handled meticulously.
McCarty is "drawn to the basic, the personal-skin, flesh, hair, and water." Many of his best photographs are in the bath, the shower or of models with soaking wet hair.
There is a strong sense of intimacy in McCarty's photography of his family. He has also done various pro bono photoshoots partnering with rectal colon cancer survivors in which he creates angelic shots, seminude, creating a lovely sense of peace and resistance centering around their scars.
McCarty has recently been photographing Alzheimer's patients. He opened upon this project with a careful tenderness unlike the franker charisma he had carried for the rest of his presentation. Like the majority of McCarty's personal work, all of his shots were black and white film portraits. These shots were captivating and had a magnetic sense of connection between the viewer and these lost eyes frozen in McCarty's lens. The lines of time crisscrossed across patient's necks, slipping and twisting across fingertips and knuckles, punctuating smiles and extending brightened or tightened eyes.
Desperation and loss of existence can be seen in some subjects, given that Alzheimer's involves a tumultuous and painful disruption of the mind. However, there is softness to these shots; there is a distinct sense of care between patients and loved ones — joy remains in the laughter McCarty captures.
McCarty is also currently exploring further the documentation of child life by working at various centers for children with disabilities in Albany.
He has focused on a rare form of epilepsy called Lennox-Gastaut Syndrome. His work has been exhibited at a physicians conference to raise awareness for the disease.
The shots he takes are intriguing and even painful. Like in his other projects, he emphasizes hands, knees, skin, hair and intimacy.
Through this series, McCarty focuses on the meaning and implications a single touch can have.
His best shots were taken by a 1944 8×10 film camera. Highlights include some truly fantastic profiles, shots of intertwined wrists and fingers, a few photos detailing the trials of breast cancer and intricate individual hairs and freckles illuminating each portrait.
Each exploration of the sentient film is exquisite and draws the viewer inward.
McCarty's work is on display in the Crowell and West Galleries in the Visual Arts building for the remainder of the term.