On May 5, Union's Iris House hosted a gender inclusive clothing giveaway for the campus community on Rugby Field. Students could come by and pick up gender inclusive clothing for free, or drop off clothes they did not need.
Iris House Coordinator Hannah Lane '23, said: "I've seen a lot of other LGBT charities host a clothing swap that allows people who have a lot of clothes that might not necessarily match their preferred gender expression to donate them and collect clothes that do … And that way everybody benefits, we reduce clothing waste, and we also help the community feel more comfortable in their skin."
Students were able to choose from dresses, shirts, shoes, pants, scarves, and more on tables set up across the field. Clothing available represented a variety of gender identities, and the goal of it was to allow "people who wanna dress more feminine to swap clothes with people who wanna dress more masculine," Lane said.
This event lasted several hours, but Iris House also has a closet to give clothing to students at other times. "The closet is always open — you just have to message whoever the house coordinator is. It's always available so you can stop by any time and get stuff. Or, if you have clothes that you don't want you are always welcome to donate. We really appreciate it." Lane said. Students can contact [email protected] to get in touch with the current house coordinator of any theme house.
Story continues below advertisement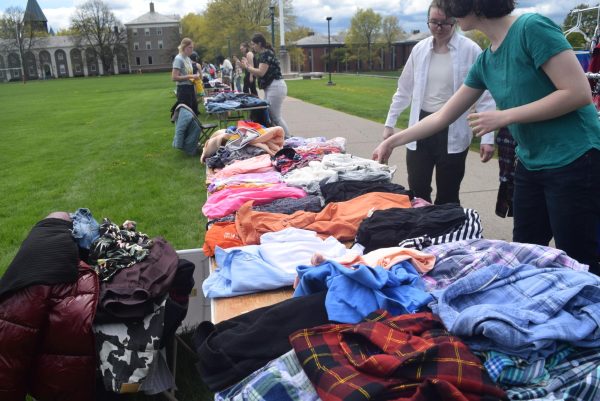 Iris House will also host its yearly charity drag show in Old Chapel on Saturday, May 13 at 6 p.m. The event costs $5 for community members and is free for Union students. All funds raised will be donated to the Trevor Project. "Iris House is one of the theme houses — specifically it is the LGBT house — so it's supposed to be safe housing for either LGBT students or allies," Lane said.
Union students can apply to live in the house, and Union's other theme houses, in February of each year through the theme house application.
This article was originally published in the print edition of Concordiensis on May 11, 2023.