This spring term, Union's Sororities are giving back to the community and their philanthropies. Union currently has three sororities: Sigma Delta Tau (Greek letters ΣΔΤ, also known as SDT), Delta Phi Epsilon (Greek letters ΔΦΕ, also known as DPhiE) and Gamma Phi Beta (Greek letters ΓΦΒ, also known as GPhi). Each sorority has at least one philanthropic organization that they support through fundraising and raising awareness on college campuses. Each Union sorority supports different philanthropic organizations.
Sigma Delta Tau supports Prevent Child Abuse America (PCAA), Jewish Women International, and the Sigma Delta Tau Foundation. On April 27 and 28, SDT hosted "Puppies and Pizza," where the campus community could pet therapy dogs and buy slices of pizza.
"We're charging $1 a slice and all the proceeds go to PCAA," Casey Davidson '25 said. On April 28th, the chapter also hosted "Pie a Sig Delt," where members of the campus community were able to smash whipped cream into sorority sisters' faces and donate to their philanthropy.
Delta Phi Epsilon supports the National Association of Anorexia Nervosa and Associated Disorders (ANAD), the Cystic Fibrosis Foundation, and the Delta Phi Epsilon Educational Foundation. Aside from supporting their philanthropies at other times of the academic year, sorority sisters attended the Goose Hill Neighborhood clean-up to pick up trash in the nearby neighborhood. "We like to make sure that we're involved in the Schenectady community," sorority sister Lucy Mastriani '24 previously said.
Story continues below advertisement
Gamma Phi Beta supports Girls on the Run, and on April 22, the chapter hosted a Moonball event, where attendees paid $10 per person to participate in a volleyball tournament. All proceeds were donated to the Capital Region's chapter of Girls on the Run.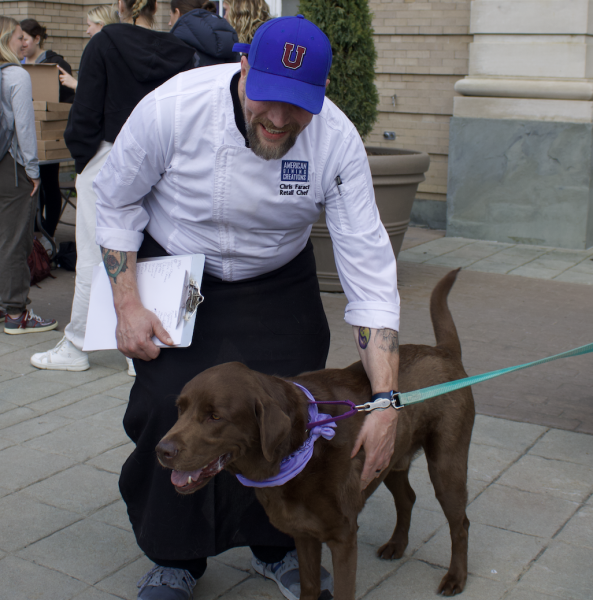 Union also has a co-ed and co-Greek service Fraternity, Alpha Phi Omega (Greek letters ΑΦΩ, also known as APO). The Fraternity organizes community service events throughout the year, including attending the Goose Hill Neighborhood clean-up and volunteering at Street Soldiers, an organization in Albany that supports the local homeless population.
Students can join Greek organizations primarily through fall recruitment, which takes place during week 2 of each fall term for second year students. Union's Sororities also host a "Meet the Sororities" event each year to allow first years to learn about these organizations, and this year the event occurred on May 2. Alpha Phi Omega hosts its own independent recruitment events, and interested students can contact the Fraternity and Sorority Life Office at [email protected].
This article was originally published in the print edition of Concordiensis on May 4, 2023.