Earth Day was on Saturday, April 22 this year, and the Union and Schenectady community celebrated it through events, neighborhood cleanups, and marches.
On April 21, the Black Student Union (BSU) and Green House, a Minerva, hosted an event where attendees painted pots for succulent plants, and learned about the environmental activist Alice Walker. Walker is known for publishing a series of 36 pieces titled In Search of Our Mothers' Gardens. She demonstrated the connection between black women and nature as a source of healing from oppression and a way to express creativity.
On April 22, the Union community assisted the Goose Hill Neighborhood Association to clean up trash in the neighborhood. For the past 7 years, community members have gathered to clean the neighborhood and bond with one another.
"We are really being purposeful and intentional about getting students to work with community members and engage in a community event because Union is part of this community," Kristine Moore, the President of the Goose Hill Neighborhood Association said. "We want Union students to feel at home."
Story continues below advertisement
Student volunteers did this on behalf of their sports teams and Greek organizations. "I think it's really important to give back to our community, and as a member of our union soccer team here, it's an honor and a privilege to help out the community," Wyatt Goldfisher '25 said. "At the end of the day it can be fun too."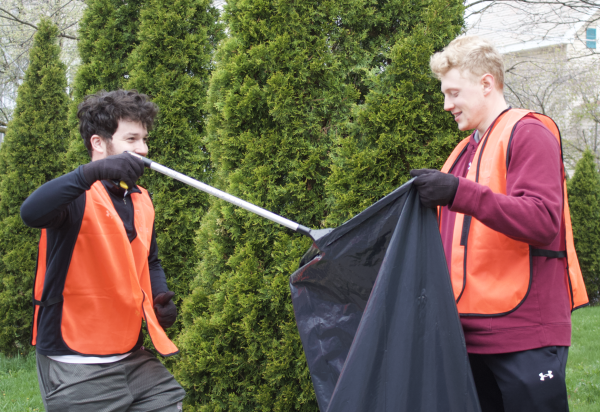 "I'm doing this through my sorority, which is Delta Phi Epsilon, and it's important to give back to the community," Lucy Mastriani '24 said. "We like to make sure that we're involved in the Schenectady community."
Organizers of the event also utilized it as an opportunity to learn something new. "There's something to be learned from the actual experience of taking that pick stick in your hand, picking up the litter, and putting it in a trash bag. It's a fun thing to do," Moore said.
Union's USustain club, an environmental organization focusing on improving sustainability on campus, also took students to the yearly Schenectady March for Climate. The march featured speeches from students and community leaders, including Nima Darafshi '24. His speech highlighted his family's experiences as farmers in Iran, the droughts they have experienced, and how everyone has a role to play in combating climate change.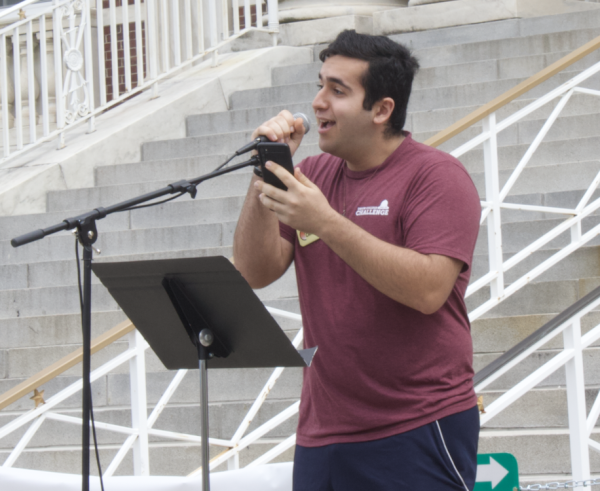 "Currently, my grandparents and their farm are one of the many targets of climate change because of the decades-long drought and rapid changes in temperature," Darafshi said. "People from poor communities across the world will never get a say in the destruction to their own homes while today's plat- formed voices are ignored. Each and every one of us has a role to play in combating climate change."
Haley Stoltenberg '23, Union's current Vice President of Sustainability, valued the event as "a way to get our voices heard, especially as young people. It's important to engage in the community as a union student and really get into Schenectady."
The event also featured three drag queen performances and a 0.8 mile march around downtown Schenectady. Attendees were also able to sign petitions to local businesses to adopt more sustainable practices, and call New York Governor Kathy Hochul to support state bills that will improve the environment.
"If we do not save the future of our earth, we can't solve any of the other issues that we have going on," Matthew Koo, the organizer for Schenectady March for Climate, said. "I think it's maybe more difficult to talk about than some of the other issues because it's so big and so vast, and it's gonna be the biggest test that humanity has ever faced."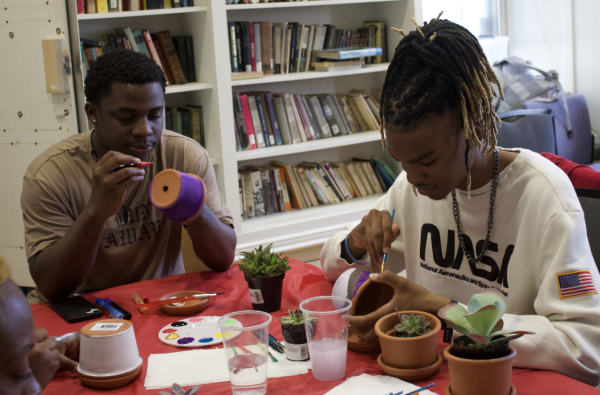 Union students are able to get involved in clubs that support the environment and the Schenectady community. Union's USustain club, which aims to support sustainability efforts on campus, meets biweekly in Lippman 101 on Tuesdays at 1 p.m. The Black Student Union meets on Wednesdays at 5 p.m. in Reamer 306, and Green House has its weekly meetings on Tuesdays at 1 p.m. in the Green House Seminar Room.
The Kenney Center, which hosts events with the Schenectady community, also looks forward to its next event. The "Annual Community Carnival is set to take place on Sunday, May 21st from 12 p.m. to 3 p.m. in between the Nott and Schaffer Library," Kevin Trigonis, the Director of Community Engagement and Outreach, said. Students can sign up to volunteer for it on UEngage or various posters around campus. Union students can also reach out to Union's volunteer office via email at [email protected].
This article was originally published in the print edition of Concordiensis on April 27, 2023.