Theater department stages two readings for winter
This winter, Union's Theater and Dance department showcased two staged readings: Pride and Prejudice by Kate Hamill and Everybody by Branden Jacobs-Jenkins. Staged readings are where actors don't wear costumes or utilize sets; in Union's staged readings, actors read scripts off of music stands. 
The play Pride and Prejudice is a theatrical adaptation of a book by the same name, written by Jane Austen. Pride and Prejudice are about the wealthy Bennet family's wishes to marry their daughters off to wealthy husbands. Elizabeth "Lizzy" Bennet, the protagonist and one of the daughters, is focused on finding love and finds it through Mr. Darcy. The play Everybody is an adaptation of the 15th-century play Everyman and is about God summoning the cast to account for how they have lived their life. The plot of Everybody is complex, and actor Dana Aument '26 remarked "Enjoy Everybody and don't think about it too much."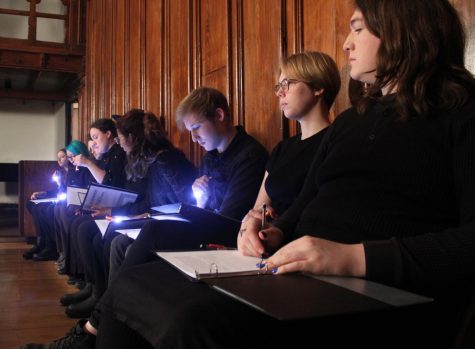 These staged readings were a first for many actors and crew; for several actors, this was their first production at Union College. "This my first show ever at Union College [and] this is a huge step for me to actually get into the performance world of theater," Jerome Anderson '26 said. 
This was also a first for the stage manager of both shows, Ollie Taylor '24. "I have been an assistant stage manager before and I've wanted to do stage management. [I wanted to] do something small and easy compared to the fall and spring shows, which are really big and complicated." 
Director Keelie Sheridan, Lecturer of Theater and Dance and Artist in Residence, expressed her enthusiasm for directing these two readings. "​​I'm fascinated by classical literature and stories that remain popular through the ages. I was excited for the chance to see how these old stories were explored by two very accomplished contemporary playwrights- Kate Hamill and Branden Jacobs-Jenkins.  And producing staged readings gives an audience a chance to hear a play filtered through the first impulses of the actors, with very minimal rehearsal. It's less formal than a full production and makes for a more casual exploration of the play texts."
Union's Theater and Dance department also looks forward to its spring term production. "This spring we are very pleased to bring Jean-Remy Monnay of the Black Theatre Troupe of Upstate NY to campus to direct the Department of Theatre and Dance's production of Sweat by Lynn Nottage at the end of May," Director Sheridan said.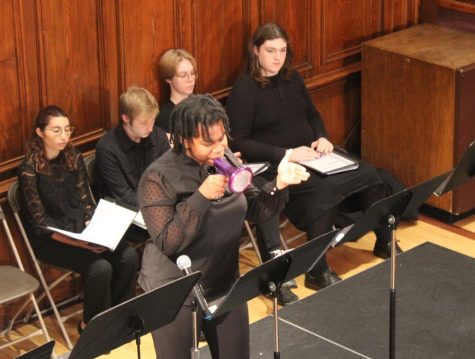 In addition, from March 1-4, the dance department will run its Winter Dance Concert, titled At the Intersection. Shows will be on each day at 7:30 PM, with an additional show on March 4 at 2 PM.