Union Club Spotlight: Anime Club
Given that the recent Anime Trivia Night that was organized by Anime Club was a huge success, Concordiensis decided to approach the club and its members to learn more about their club. The Anime culture has unknowingly became a huge part of many different cultures across the world. It is now considered one of the biggest sources of entertainment or sometimes also a means for people to give social messages, etc. 
We approached Sebastian Koch '23, the current President of Anime Club and got to know about the various events organized by them. Through the Discord that the Anime Club runs, we were able to reconnect with one of the Union Alumni :Daphne Lin'21, former President of Anime Club. Concordiensis also had a chance to uncover the club's history, shedding light on the reason why Lin established the Discord server and how Koch and his team try to continue the legacy of events established during Lin's time. The following interview is with Koch.
What are the types of events that Anime Club hosts?
Anime Club does a wide variety of events. The main one that we always do is a Trivia kind of event. It can be like a simple "Guess the Anime" trivia or a Musical one where we play the opening and endings of the anime. The Musical ones are well liked but they are pretty difficult to make. We also like to do Japanese food events such as Mochi (not the ice cream one, the authentic ones) and Taiyaki. Taiyaki is like a type of waffle that is in the shape of a fish and then it has fillings – usually, what we do is Anko which is Adzuki Beans which is like a traditional Japanese dessert which is very good. Other than that, we sometimes do a Pictionary event where we draw Anime characters on the board. This is more like a relaxing and fun one. There have been two events that haven't been done in a long time. One of them was the Manga Café. People could read manga and there were snacks. We have a Manga Library but it is in our advisor, Philip Poczik's office. The other event, that even I have never been a part of, was stopped due to COVID. The Anime Club would attend Anime Boston every Spring Term. So, hopefully this year we can try to revive that. I haven't asked yet because we are not that close to Spring Term yet but in the coming weeks, I will ask about getting some extra funds for this event. We also show movies but with other professors such as Professor Pease. Usually, it is Ghibli movies or sometimes it is an event with the Japanese Professors. These are all of our events.
Why do you use Discord?
The reason we use Discord is that the mindset is that Discord is for gamers and most people that watch Anime now at least of video games and Discord is on computer as well. Discord is like a messaging app, we use it like that at times, but it is more of a server so it's like a community place so that's where we put all of our announcements, we have multiple chats such as general chat for random info or for people to chat generically such as about their favorite anime or about their class schedule or a Japanese chat for everybody taking Japanese class to practice. Right at the time when we started using Discord, COVID-19 started and we were at home. At that point, it was the best option for a large group to meet and it is free.
What is your favorite anime?
Hard to say but it is probably Violet Evergarden which is very beautiful. Every time I watched an episode of Violet Evergarden, I cried twice—once at the start and once at the end. So good! Wonderful soundtrack. The newly released Chainsaw Man—that was so good! One Piece is really good but it is really long. It has been going on for around 25 years now. My nostalgia or original is Familiar of Zero.
Who do you think would benefit from this club? People interested in anime or manga? Not interested in anime or manga?
I say it depends on what they are interested in. If they are interested in manga, then probably joining the club's discord is the best way of going because we don't really talk about manga in person but if someone is interested in anime or well-versed in anime, it is pretty easy to get into it. When we start watching our anime series for the term we start watching from episode 1 and we don't watch season 2s normally. You actually don't need to know about anime to get into it.
How do you think the purpose of Anime Club is fulfilled?
At least, nowadays, anime is pretty widespread. And at the conception of the Anime Club in 2011, the main purpose of the club was to show the people of Union College that anime was a thing. And, now since anime is also a part of American Culture, we are just a place to meet up, win prizes, and show how much knowledge you have. Its purpose has changed from expansion of anime to more like a place to meet.
When are your screening events and how often are they?
Normal meetings are Friday, 5:30 p.m., in Olin 106 and they are around an hour. We usually watch two new anime of the new season. And then on Saturdays, we pick up anything to watch like older shows such as Cowboy Bebop which is really famous and came out in the 80's. Last year we watched a lot of Cowboy Bebop. Fridays are newer shows and Saturdays are older shows. For other events, it depends but is generally Friday night at 8:00 p.m. We try to structure all our events out. We aim for three events per term—two Trivia, one Pictionary or one food and couple movie events.
What is the composition of your club like?
It's pretty mixed. People that come to the normal meetings are usually first-years and sometimes we will have seniors that come to Friday meetings. For big events, people from all years come, especially since for most of our events, you can get Japanese event credit for it. So, people who are taking Japanese classes or people who want to test their anime knowledge—all sorts of people come. People from a wide variety of majors come as well.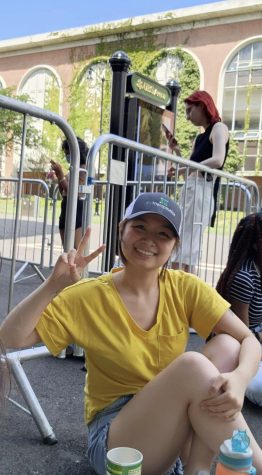 Concordiensis also spoke to a past president of the Club, Daphne Lin '21. Lin, while a student at Union, was an interdepartmental major in Chinese and Asian Studies. 
 What made you join Anime Club?
When I was a first-year and I heard that there was an Anime Club, I was so excited and pretty much the Anime Club has been with me throughout my time at Union. I joined in Fall of 2017 and then the following year, I became Co-Chair. I am so proud of where anime and Anime Club have come in general. When I was in high school and middle school, Anime was such a dirty thing to be affiliated with. I was so into it but when I talked to anyone about Anime, "Hey! Have you watched this anime?" or "Do you know the wondrous world of Anime?" I was trying to advertise it but people thought it was kind of weird. My high school had an Anime Club but it wasn't cool enough for me because they only watched Attack on Titan. Before I came to Union, I looked up if there was any Union Anime Club and then it did exist. That was how it started. It was the first club that I really wanted to join.
How was your experience at Anime Club?
When I joined, the club did seem kind of small. The first meeting, not many people showed up—it was basically me with two other members and the President at that time who was a super chill person. There wasn't a lot going on out there in terms of advertisement or putting ourselves out there and it wasn't super active. And that's when I started to get a little ambitious. There was so much potential but we weren't doing any events. Nor was there a solid e-board. It was just the President doing everything and you can't run a club all by yourself because you need other people to help you run it. The thing that I felt was missing the most when I joined Anime Club was why there weren't any events. I wanted to change that. Seeing what Anime Club could become and my love for Anime, the me at that time who didn't take initiatives, didn't talk a lot or wasn't much of a leader started to change. In Spring 2018, when the elections were being held, I directly said, "I wanted to take over as Co-Chair. I'll do it," because the President at that time was entering his senior year and he didn't want to do it anymore. And that's how I ended up becoming the Co-Chair. From there on, the following term, it went on to planning for marketing, planning for events, budgeting, how we wanted to conduct meetings, etc. We just didn't want people to go through MyAnimeList so the E-Board would decide on six anime while accepting suggestions from other members. And from there it was all about consistency. Making sure we send emails, notifications,etc. We had a Premium Crunchyroll Account and everything started to fall into place.
Were there any particular events that you used to look forward to?
Trivia Night! Trivia Night was definitely one of my favorites. I would get to host it and create quizzes. It was such a great bonding event for everyone no matter the subject they were from and that was just really really fun. I also got a huge adrenaline rush from hosting events. It was just so nice to see a fully packed Fish-bowl (Olin 107). There were also terms when less people would come. It was because the dates were not that great—maybe in the finals week or if another event was happening. First week or a restful week in between would be the best.
Did any of the skills that you learn translate over to helping you in the professional world?
I learned a lot of skills such as marketing, organizational skills, etc. All of these skills translated beautifully to my current job. I work as a Manager for a Mandarin Tutoring company. It's a small company but pretty much all my leadership skills that I learnt during my time in Anime Club and Union are super relevant to my current job. There are different types of Animes in different genres. I became such a huge fan of psychological thriller and mystery type Animes and those anime have given me such a deep insight into human psychology. Since I work in tutoring, I work in the Education field and I personally think that you have to understand people really well in order to navigate around them because everyday I am working with young children, parents, teenagers, working women, people who are the same age as me—pretty much people of all age range and people of very different economic and ethnic backgrounds. You have to know what you have to say and how to portray yourself in a certain way and I think that I got a certain insight into that by watching psychological shows, for example, like Psycho Pass.
How did you come up with the idea of creating a discord?
Another thing that the Anime Club gave me was the friends I made. I am still in touch with them. My other Co-Chair at that time decided to make a Discord. There a bunch of different alumni joined in and they're still there in the server and more new members are coming in and they are being connected. There is this bigger network that's being created. I wasn't able to connect with the people before who ran the Anime Club and all the people before whom I heard from Phil, the Club Advisor, sounded amazing. And now that the current members have a chance to meet with all the wonderful alumni—I think it's a great thing.
What else were you involved in on Campus apart from Anime Club?
I had joined a bunch of other clubs in my first year but once I went into the leadership role for Anime Club—Student Activities saw what we were doing and Katie (Assistant Director of Student Activities) was so nice and pretty much became a correspondent for the Anime Club because I would bother her so much. It was during the middle of 2020 when Student Activities was looking for a summer programming board for activities for first-years who were joining at that time and since I knew Katie from my time being in Anime Club so I volunteered and she was more than happy to have me with her. I got involved directly with Student Activities and I think from there in my senior year, another incredible thing happened –  a student who used to work in Student Activities reached out to me for an Instagram Interview. As we were coming out of pandemic, she was interviewing student leaders and she reached out to me. We bonded over being seniors and our senior projects. When I was interviewing with her, it was kind of surreal because I never thought Anime Club would ever receive any marketing. Because at the time I joined, people didn't know Anime Club existed and people had to discover it so this interview made me feel that my efforts had paid off.
How did Anime Club help with your academics?
I was a Chinese and Asian Studies ID Major and about 60% of my Asian Studies Major was Japanese Language Acquisition and 40% was Cultural Studies History and because of that I was really connected with the Japanese Language Department. So when I became Co-Chair in 2018, I was taking Japanese Classes and I was acquainted with most of the Japanese Department so I asked Professor Junko Ueno, who was the Japanese Department Chair at that time, and asked her if we could get Event credits for Anime Club Events and Meeting and she agreed because Anime is also a part of Japanese culture. We got her approval and then this beautiful relationship where any of the classes in – I would advertise Anime events in that and Ueno sensei would advertise in her class and also ask the other Japanese teacher to do the same. This also motivated other students to attend events to get credit. This reduced the burden on the Language Teaching Assistants and they have to plan less events as they can collaborate with Anime Club.