Union students find joy and adventures in Mini-Terms
During winter break, Union students went on mini-terms, which are "three-week programs running during winter break or at the beginning of summer break," according to Union College's International Program. For three weeks in December of 2022, students had the opportunity to visit the following countries: Argentina, Egypt, England (London), India, New Zealand, South Africa, and Spain (Cordoba). 
Each mini-term has a different focus. In the India mini-term, students spent three weeks traveling to nine cities across the country, learning about India's "politics, heritage, history and culture.". By contrast, the mini-term in Egypt "planned excursions [which included] ancient monuments and other historical sites; museums; temples, synagogues, churches and mosques.". 
Professor Dan Venning from the Theater and Dance Department led the London Theater Mini-Term, where students saw a variety of theatrical performances in London. 
"The chance to see so many shows in one of the leading theatrical centers of the world is extraordinary, as is the chance to get to know some of Union's very best students in a relatively short but intense course." Professor Venning said. "I usually also get to publish an article or two because of the mini-term… [and] I plan to do so again this time."
Current students enjoyed the experiences that the mini-terms brought. "This experience has shown me the power of independence and going with the flow. Traveling is a life-long goal of mine and I'm happy to check off another beautiful location!" Paige Kent '23 wrote in a LinkedIn post about her experiences on the New Zealand mini-term. The New Zealand mini-term focused on the environment and New Zealand's power grid.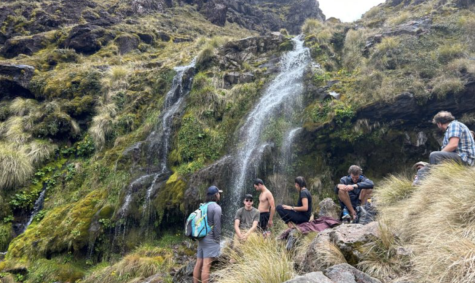 Abby Smith '23 went on the London Theater term and found similar meaning in her experiences. "As an English major, I have always enjoyed engaging with theatre, but never in my life have I felt so impacted by it as [I have]… Productions like "The Doctor," "Orlando," and "Baghdaddy" have shaped my concepts of identity and purpose, and have truly changed the way I engage with the world." 
Students apply for mini-terms two terms in advance of the program's occurrence: for December 2023 mini-terms, the application deadline is April 14, 2023 and decision letters will be emailed on May 5, 2023. 
Terms abroad are competitive to be accepted to, and "selection criteria include your term abroad essay, GPA, faculty recommendations, course of study, certification by the Dean of Students, and the faculty selection committee's assessment of your ability to adapt to the program's social and academic environment," according to the application Q&A. 
More information about programs and application deadlines can be found on Union's study abroad website.