Research Lab Spotlight: Professor Kristin Fox
Florence B. Sherwood Professor of Physical Sciences Kristin Fox is the head of the Fox Research Lab. Professor Fox is originally from Massachusetts. She majored in chemistry at Lafayette College and received her PhD in biochemistry from Cornell University. She has been teaching at Union College since 1995. 
What is the main focus of the research lab?
The Fox Lab primarily studies protein structure and function. Proteins are long chains of amino acids that do most of the work inside cells. In order to do this work, the long chain needs to fold up into a particular shape. For example, outside of viruses, there is a spike protein. 
This spike protein is important in two ways. In order for the virus to invade the human cell, the spike protein changes its shape. Vaccines are often made based on virus spike proteins.
What are the current projects?
The Fox Research Lab is currently studying the metacaspase protein which only works if calcium ions are present and trying to understand how its shape changes in the presence of calcium ions. The eventual goal of this process is to develop better antifungal drugs. 
What is a typical day like as a research assistant?
During the academic year, the lab meets every week as a group. Lab members present the work that they worked on in the past week and discuss the plan for the upcoming week. In the lab, lab members frequently run gel electrophoresis tests in order to separate proteins in samples based on their size. Lab times are flexible and people work in the lab depending on their schedule. 
Each member of the lab has their own project. Luke Miranda '23 is currently working on his senior thesis where his goal is to understand where proteins cut themselves into pieces. He explained his experience in the Fox Research Lab. 
"I have been working in the Fox Lab for well over a year now. I've had a great experience working with Professor Fox. Not only has research allowed me to immerse myself in the biochemistry field, but it has prepared me for life after Union by teaching me valuable skills that can be applied anywhere. Professor Fox has been the best mentor I could ask for and she has been an integral part of my education at Union."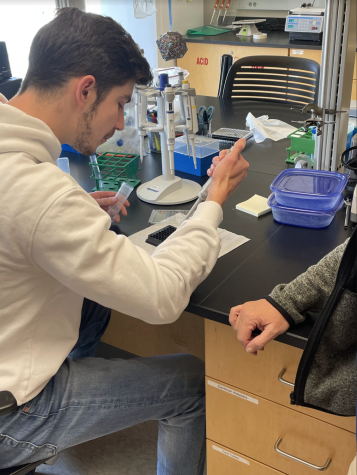 Morgan Truesdell '24 is measuring how calcium binds to proteins. She described her experience working in the Fox Research Lab. 
"In doing research with Fox Lab, I have gained confidence as a woman in STEM, and my experience has led to amazing opportunities in just my first two years at Union. I can't wait to see what the next two have in store for me!"
How can interested students get involved?
Students can contact Professor Fox if they are interested in getting involved with biochemistry research at [email protected].