ACM-W integrates interdisciplinary interests in a week-long game jam
Association for Computing Machinery's Council on Women (ACM-W) hosted a weeklong game jam, from October 17 to October 24, along with a series of three workshops on different topics to help participants compete in the jam with new skills. Participants were given the theme for the jam, Haunted. Armed only with that word and whatever coding skills participants had beforehand or learned, they could come up with whatever came to mind.
"We invited and encouraged various departments to contribute to highlight how much goes into game development and all the opportunities for collaboration," said Fiona Shyne '23, Co-President of ACM-W and head organizer of the game jam. "We hope to encourage experimentation and discovery. You don't have a lot of time to work on the game, so you can't worry about it being perfect or even good. Just try something new, experiment with something you have never tried before and see what happens."
To fulfill this mission, ACM-W organized three workshops leading up to the game jam: Procedural Content Generation, 3D Assets, and Pixel Art.
Shyne led the first workshop on Procedural Content Generation. "PCG is a way to generate content through algorithms instead of manually creating content." She continues that "it's important to talk about both because so many of our favorite games, from Minecraft to Rogue-likes, use PCG, and because it is a growing area of interest for Artificial Intelligence."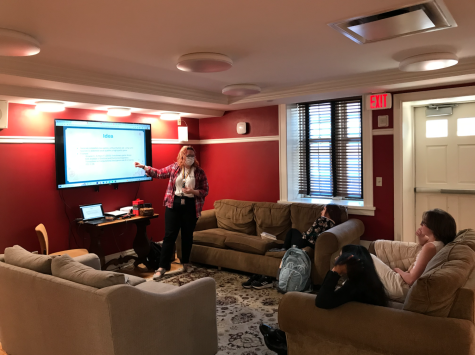 Aspen Morris '25 came to the workshop "as an amateur game developer who's just starting out," hoping to get more experience in game development. "I walked away with a better understanding not just of procedural generation but of game development in general and the kind of proficiency I can work towards later in my career," Morris concluded.
ACM-W's next collaboration was with the MakerWeb directed by Cole Belmont to bring forth a workshop in the generation of 3D assets. Belmont introduced three avenues to obtain 3D assets to use in games: creating your own through CAD software like Tinkercad, downloading from existing repositories like the Unity Store, or using 3D scanning of humans or objects.
"The 3D asset workshop showed me just how easy it can be with today's technology to produce a really cool 3D model or animation with very little technical know-how," Celia Lane '23, the Community Chair of ACM-W commented.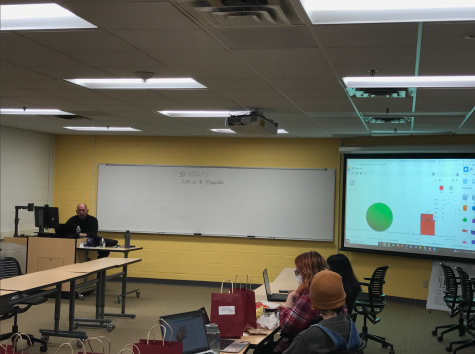 Ashlesha Bhagat '26, a first-year majoring in Computer Science, facilitated the final workshop on Art in Game Design. "The visuals of the game are as important as the algorithm and what goes behind the game. It is the first thing that attracts users," Bhagat highlighted.
Reflecting on the intersection of game and art, Bhagat said that "the toughest part is deciding graphics… There are so many styles one can use," so this workshop was to introduce students to some resources to create sprites, or characters seen in a game. As part of the workshop, students used Piskel, a free online interface to craft their own pixelated sprite.
Reflecting on the role of art in games, Rathika Nair '26 expressed that "visuals do not have to be as important as being distinct." Using Minecraft as an example, Nair indicated how some people might not like Minecraft's visuals but "can immediately identify that it is Minecraft because the art is unique."
Jude Kappel '23, an Economics major with a Computer Science minor, commented "the art in game design workshop looked super interesting." In the process of "making a video game" himself, Kappel "came to the workshop to hear and learn about different perspectives and art styles used in games." Specifically, Kappel "learned about some new resources to make art for a game and how to translate that art from the browser page to the game-making environment." He further noted,"The game itself is art."
"[The] purpose of these workshops is to introduce students to the variety of skills and tools that go into making a complete game," said Lane. "This is why we encouraged students from all disciplines to attend so that students are prepared to design their own game in a weekend."
John Rieffel, Chair of the Computer Science Department, and his daughter also participated in the Jam. Aged 12, Professor Rieffel's daughter remarked that "the game jam was a fun and easy way to create something new and interesting! I think it is a great way for people—especially girls who might not get the encouragement otherwise—to share their ideas and get creative."
"It was great that the game jam was open to the broader Union community, not just Union CS students," Professor Rieffel added. "I appreciated that the system was so inclusive and we could submit anything we wanted including board games—not just fancy computer games."
"We are excited that we have more submissions this year than last year. Everyone had a great time in Messa House on Saturday working together" expressed Diep Vu '24, the Treasurer of ACM-W. "It shows that students applied what they learned in Introduction classes to making games of their liking which will look great on their portfolios."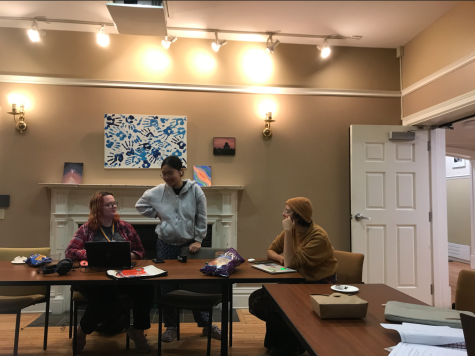 Games are public following the game jam, and participants will rate and play the games. The creators of the top three games that draw upon aspects of content, visual, and complexity will receive one of two mini game consoles or a copy of the Bears vs. Babies card game.
Considering this entire experience, Nair noted that "I learned a lot from the workshops like how to use Unity and what websites I can use to make my own character sprites." As someone who "likes to code and always had a passion for video games," Nair is thrilled to "combine two hobbies," exactly what the purpose of the game jam is.