Accommodative Services pushes effort for ADHD awareness month
Union's Accommodative Services Office, which provides academic and other support for students with disabilities, has moved into its new office in Schaffer Library Room 222, which includes a new testing center. The office is settling into its new location as it highlights its programs and ongoing efforts during ADHD Awareness Month.
The new office was secured by a decision from the Vice Presidents of Academic Affairs and Student Affairs, and was also enabled by Facilities Services, which made separate spaces for Harrington's office and a small conference room, constructed a new wall, painted the new location and carried out repairs. The move was largely spurred by issues with the office's first testing center, established in 2019 in Old Chapel. As per office policy, students with recent documentation from a psychologist demonstrating a need for extra test time go use the center as a "distraction-limited" environment (distraction-free can't be guaranteed, says Accommodative Services Director Shelly Harrington.) But the old testing center, which was near Ozone Café and Admissions Offices events, wasn't quiet enough for students, and was separated from the office's old location in Reamer Campus Center. All of Accommodative Services, including its testing center, is now in one centrally located place, where the center now serves up to about 40 exams a day. The new office is also across from the Writing Center, where Union students can receive one-on-one help on any writing project. Laura Galt, Accommodative Services Assistant Director, often refers students there after academic coaching sessions.
According to Galt, Union has a record number of students this year receiving accommodations (307,) and the numbers are growing. 115 of Union's accommodated students receive ADHD accommodations. Harrington notes seeing a higher ADHD diagnosis rate every year, with a high rate of comorbidity, in this case referring to students with ADHD and another disorder, such as anxiety or a reading disability. According to Harrington, the office is "seeing more students, we're seeing students with more diagnoses, and we're seeing students with more accommodations."
Given an increase in ADHD diagnoses at Union, the new location also supports the office's many supplemental programs. (According to the Americans with Disabilities Act, says Galt, all that is technically required of the office is matching students to accommodations.) For the Peer Mentors program, started by Harrington in 2005, the office recruits strong upper class students to mentor accommodated first-years, who have given the program strong positive feedback. This year, the program has seven mentors for 30 mentees. A mentor, says Galt, is a "touchpoint, resource and support person" for first-years, and helps them manage new college experiences and accommodations. Students can also reach mentors when the office is closed. The office's Executive Function Support Group is also in its third year, having started during COVID. This is a weekly support group for students with ADHD to discuss their experiences, as well as learn more about ADHD. The office also provides study halls with mentors Sunday–Thursday from 7PM–9PM. In ADHD Awareness month, the office also held a Disability Social on October 4, to encourage students using Accommodative Services to get to know each other better.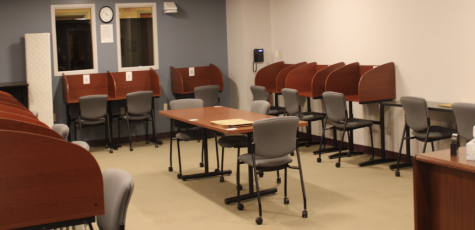 The office also held orientation programs this year "to help onboard students in a more active way than before", says Galt. In this full-day program, students met each other and received a tour of the testing center and campus study spaces. The importance of referencing course syllabi and a personal planner was also emphasized. This year's program had the most participation yet.
Galt notes that "most schools don't do" the programs Union offers, stating that Union leads the New York Six Liberal Arts Consortium (Colgate University, Hamilton College, Hobert and William Smith Colleges, Skidmore College, St. Lawrence University and Union College,) in accommodative services.
Future ADHD Awareness Month plans at the office include Emailing the campus info about programs and ADHD information, as well as trying to secure programs in residence halls. These events could include movies and discussions, and the office is looking into Minervas to host. One or two speaking events through the office are also usually held yearly.
Galt notes "a huge amount of growth the last five years" for Union's Accommodative Services. With a new, centralized space and expanded support network for students, Galt sees herself and Harrington at "almost a celebration point". Along with the move and continuing programs, Galt also highlights an increase in academic coaching capabilities in the last five years, and recalls how "faculty really appreciate the testing center too". In the coming years for the office in general, Harrington hopes to expand staff and programming, including filling more positions to work with students.