Everything you need to know about Union's Maker Web
The Union College Maker Web is an amazing resource that is available at Union that not every student may be aware of. The Maker Web is made up of five different labs around campus: the 3D Print Lab, the Imagine Lab (with virtual and augmented reality equipment), the Make Lab, the Laser Cutting Lab, and the CNC Router Lab. Each offers different tools and resources that students can use for classes, research, and extracurricular projects. 
In order to get more information on exactly what the Maker Web offers, I went to the Make Lab to interview Cole Belmont, Union's Director of the Maker Spaces. He's been at Union since October 2018, but still feels like he's learning new things every day. Part of his job as Director is to "help students and faculty integrate Making activities into courses, research, and extracurricular projects." When asked about some common uses for the Maker Spaces, he mentioned the variety of classes that utilize the labs, such as "Engineering Graphics", and "Exploring Engineering", which Belmont has even given lectures for. Non-engineering classes such as The History of World Music also used the Maker Spaces to let students build their own instruments. "Literature of the Country House" and various math courses have also utilized the 3D Print Lab, and the Imagine Lab's VR anatomy applications have been used in a course at the intersection between biology and dance. Belmont made a point of all the spaces being fundamentally interdepartmental, and students and faculty from any department can make use of the spaces and tools.
In addition to classwork, students use the labs for personal projects. Belmont said that students often are just interested in learning how to use the machines and software in the labs. Learning woodworking is another popular draw for students as well, and Belmont has helped students with projects to improve their living spaces, such as building a desk and creating a specific lighting apparatus. Personally, I've been planning a 3D print project based on a Star Wars costume (not original, I know).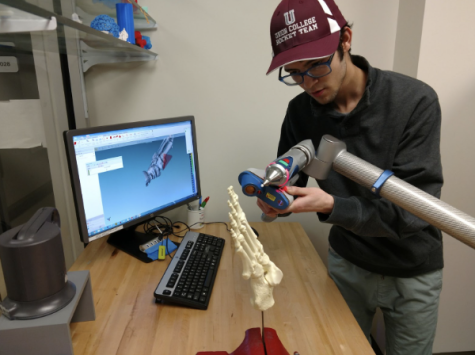 When I ask Cole Belmont what his favorite machine to work with is, he immediately points to the large machine behind him: a Tormach 770M CNC milling machine. It's a cutting-edge digital fabrication machining tool, and it's subtractive, meaning that it creates forms by starting with a block of metal and carving away pieces until it takes shape. He mentions another favorite that is more analog: the welder, which Belmont describes as "a powerful tool to expand student's skills and ability to make things."  Interested students can get certified to weld in the Make Lab.
Of course, with great power tools comes great responsibility. Belmont says that "99% of the tools that we offer in the Make Lab you can just come in and use, and if you need help with them somebody is here to help you…. beyond that there are a few tools that require training or supervision." Some of the more sophisticated equipment, such as the Tormach 770M, require a certification that teaches you to program the machine. A few machines that are either too complex, or potentially dangerous if used incorrectly, are labeled red on the website. These require students to go through training. Belmont explained that the certification processes are different for each red tool, and that some are hands-on while others can be done autonomously on the website. Tools such as the Compound Miter Saw, on the other hand, do not require official training, but a staff member must supervise any student that uses it. Machines like that are classified as orange, while machines that don't require training are labeled green. A full description of the five labs, the tools and services they offer, and the safety and standard operating procedures for accessible equipment are on the Maker Web website.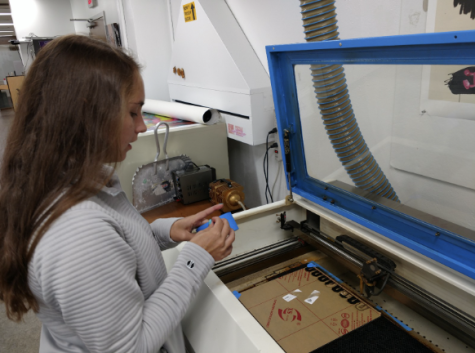 Why is it so cool that something like this is offered at Union? Firstly, the way it makes expensive machines accessible to college students is amazing. A 3D printer such as the Ultimaker S3 costs upwards of $4,000, but I can submit a file to get a 3D print for free from the 3D Print Lab. Access to tools such as CNC machines, laser cutters, welders, and metal mills and lathes would normally cost a fortune, not to mention the cost of training to properly use these machines. The extent of what a student has to pay for while completing a large project is the price of materials such as plastic, wood, and metal, and for some smaller projects, scrap metal and wood is already available in the Make Lab. Taking advantage of the opportunity to use these tools as a Union student is a great idea if you have any interest in making things.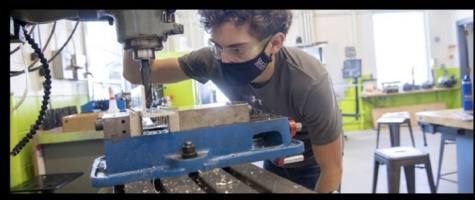 Cole Belmont assured me that getting involved is as easy as visiting the Maker Web site. Some Labs, like the Make Lab and Imagine Lab, have tools you can walk in and use, and others like the 3D Print, Laser and CNC Labs have simple file submission processes on the website. The site also has links to contact the lab staff, as well as Belmont himself. "Submit An Inquiry" is a helpful button for anyone with questions about prospective projects. A link to the official website, muse.union.edu/makerweb, will also be posted on concordiensis.com. In addition to reaching out online, just showing up to one of the labs is also a good way to get information. A schedule is posted at the door of each lab and on the website that shows when work study students will be available to answer questions and help people use tools or learn about file submission processes.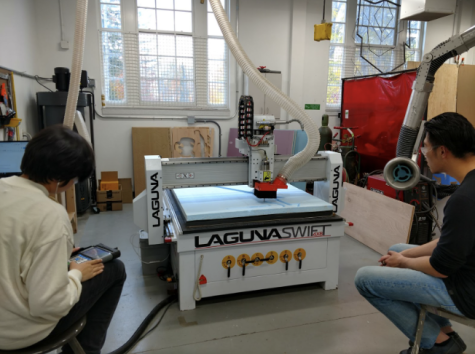 Belmont's overarching message about the Maker Web is that "my goal is to get more tools, more equipment, and more training for more students and more faculty… the goal of all these labs is to expand the culture of craft and making at Union. So come check us out!"