How Union has changed in 35 years, from a first-year legacy perspective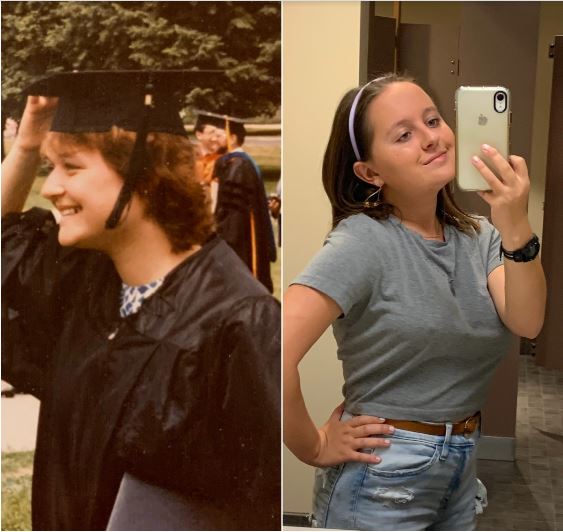 If you've been around with me on campus, I've probably said something like, "when my mom went here, x y z was true." In other words, I am a legacy and the second student in my family to attend Union. I feel like I view Union differently because of the stories my mom, Yvonne Bennett '87 who majored in Electrical Engineering, has told me over the years. She basically explained to me that academically, Union has not changed significantly, but socially it has.
Academically, the biggest difference is that there was something called half courses that lasted seven weeks. Engineering students used to take a half course on computing, which would typically be their fourth course. My mom told me it was nice to deal with only three courses at the end of the term. I feel like bringing those back would be nice for current engineering students. 
Socially, things have shifted. For her, Minervas did not exist; the first time I saw my Minerva (Breazzano), we tried to figure out which fraternity used to live in its building. In fact, there were 21 Greek organizations on campus when my mom was a student here. Today's admissions building was then Alpha Delta Phi's fraternity house. She was a Delta Gamma, but Union's chapter no longer exists. However, I believe that the population of students in greek life has remained consistent, and Union is still the mother of fraternities. 
But some things have simply changed. She told me that the only club she remembers is Springfest, then called Camp Union. By contrast, I signed up for several dozen of the 100+ clubs at the club expo. The Rathskeller was a bar, and College Park Hall was an off-campus hotel that parents stayed in. 
Some things have not changed. We both opted to live in Richmond, and she told me the only difference from then to now is the carpet on the floors. Delayed Greek recruitment still exists. She has this book on the history of Electrical Engineering at Union, and I saw that the courses appear similar from then to now. I know that several faculty members from her time are still here. 
Despite this knowledge, I am still transitioning to college. I feel like parts of our experiences will be similar, such as us being STEM majors. But we can both agree that Union has changed for the better in the 35 years since her graduation.