Union Men's Lacrosse Advances to NCAA Quarterfinals
Union lacrosse hosted its first two games of the DIII NCAA Men's Lacrosse tournament this weekend and was able to secure two historic wins. The Dutchman defeated John Carroll University on Saturday by a score of 14-7, to advance to the round of 16 and tie Union's all-time win record of 15. Then on Sunday, the Dutchman dominated Western New England University, by a score of 21-11, to make this the winningest season in program history and advance to the NCAA quarterfinals for the third time ever.
Union was in a fight early against John Carroll with both teams scoring two goals to start the first quarter. Then the Dutchmen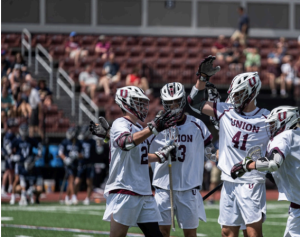 began to pull away, going on an 8-2 run to end the first half. Sam Bryne's '22 and Matthew Paolatto's '24 dominance at the X, winning 19 of 23 faceoffs, as well as the quick transition game of the midfield helped to propel Union's offensive dominance. The Dutchman would go on to outscore the Blue Streaks 4-3 in the second half, even after taking out many starters in the fourth quarter. Peter Burnes '22 and Keaton McCann '22 were standouts, both scoring three goals, while Brian Davis '22 and Kieran McGovern '22 had three points apiece. The win set up a matchup with the Western New England University (WNE) Golden Bears after they also defeated the University of Lynchburg on Saturday.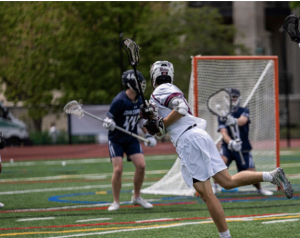 The Dutchman cruised to a blowout victory over WNE on Sunday, propelled by Peter Burnes' '22 career-high 9 point day. Despite the game being delayed nearly 90 minutes, the Dutchman came out very strong. The Dutchman's dominant faceoff men and defense smothered the Golden Bears, allowing their quick-strike transition offense to get off to a 7-0 lead. The Dutchman held WNE scoreless for the first eleven minutes of the game with the help of goaltender Dan Donahue '24 who made nine saves during the game. The Dutchman would nurse their large lead the rest of the game and would never truly be challenged, winning 21-11. The story of the game was Peter Burnes '23, who outscored the Golden Bears through the first three quarters 7-6. It was a team effort, however, as ten different Dutchman players scored against WNE on their way to the quarterfinals.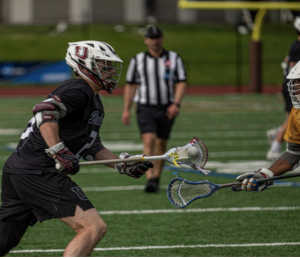 Next, Union will travel to Christopher Newport University, VA, to take on Gettysburg College on Saturday. If the Dutchman defeat the Bullets on Saturday, they will continue their historic season and advance to the program's first-ever NCAA semifinals.