Clubs react and respond to Roe v. Wade overturn
Since the draft Supreme Court decision of Dobbs v. Jackson Women's Health Organization leaked on May 2, forecasting an overturning of Roe v. Wade, clubs including Women's Union and Union's chapter of Planned Parenthood Generation Action (PPGen) have held discussion events.
On May 11, PPGen held "Reserving Roe: Documentary & Discussion," which featured a screening of Netflix's film Reversing Roe. The film covered modern US abortion policy, law, and activism, from all-male councils that mandated sterilization in exchange for abortion
s, to 1970s Roe v. Wade activists, to recent Supreme Court history. The film especially covered evangelical voters and the decades-long strategy to overturn Roe v. Wade, which began when televangelist Jerry Falwell mobilized evangelicals to vote for Ronald Reagan in 1980. The film also contained interviews with many pro-choice figures, like Gloria Steinem and Congresswomen Elanor Holmes Norton, and many pro-life figures, like Operation Rescue president Troy Newman, and Texas Right to Life member John Seago.
In a Q&A after the film, PPGen leaders Viola Li '24 and Margaret Peterjohn '24 discussed issues like anti-abortion laws affecting one's choice of workplace and residence, points of surprise that the Republican party early in the Roe v. Wade debate was largely pro-choice, and more.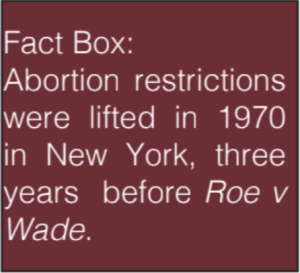 In Women's Union's Roe v. Wade discussion, a presentation titled "Roe v. Wade[:] How Did We Get Here and Where Are We Going?" was shown, and detailed ideological leanings of current Supreme Court justices, the history of Roe v. Wade and influential Supreme Court decisions since, and covered the recent leak and political reactions since.
When asked if PPGen had received different materials from its parent organization, Planned Parenthood, after the Supreme Court leak, Li said that the club has seen many more Emails and notes from its coordinator on upcoming events. On March 14, Li noted, a march in New York was held; this event was part of the "Bans Off Our Bodies" effort, partly organized by Planned Parenthood Action Fund. 
Since the leak, Li noted that leading Union PPGen has been "more hectic" and that it "feels like we have to take more action." The club started as a place for people to gather and discuss abortion issues, said Li, but now it is "faced with said reproductive issues." Li also noted a positive change in support from concerned students after the leak and has been "impressed" that Union PPGen has experienced no notable resistance or pushback. Though "occasionally", Li added, she has heard PPGen's or Women's Union events characterized as "a bit performative". When asked how people in New York
 can support choice, Li suggested research and outreach to organizations that support reproductive health care, like women's shelters or Planned Parenthood, as well as organizations supporting men: "though Roe v. Wade is primarily women-centric, this overturning could affect reproductive services for more than just women."
Jackson Giammattei '24, co-President of Women's Union and facilitator of its discussion, stated that the talk raised questions like "Is the Supreme Court an apolitical body?" and "How can other governmental bodies step up at this moment?" She also said that "In term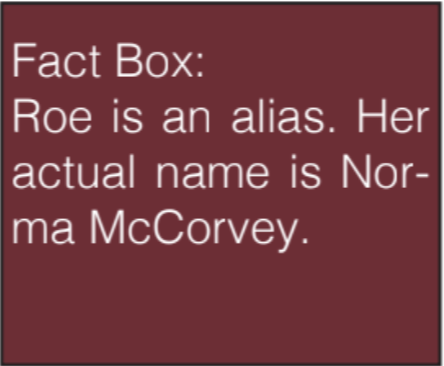 s of Women's rights it is an incredibly scary time", as "overturning this decision could lead to decreased access to abortion" and to "certain contraceptives", as well as an "increase of unsafe abortions." Giammattei also noted that "this issue is especially felt in low-income communities of 
color" and highlighted Schenectady as a place the decision can have "real consequences." 
Giammattei also suggested "keeping an eye on the news" and "attending upcoming discussions on campus". On behalf of Women's Union, Giammattei stated that the "decision would have a ripple effect on issues such as marriage equality, interracial marriage, access to contraceptives, sex education in the United States" and "access to different kinds of healthcare."
On May 25, 12:50-1:25, in Karp Hall 105, Professors Brad Hays and Zoe Oxley will hold the discussion event "The Supreme Court and the Politics of Reproductive Rights".