Union College celebrates its second annual Pride Fest
"[It is a] huge priority of mine for everyone to be themselves so that it is clear that you can be yourself here," said Union College President David Harris at Pride Fest, in addition to remarking about how important it is that Union College fosters a safe environment for students, faculty, and staff who are part of the LGBTQ+ community.
On Saturday, May 14, several clubs and organizations at Union College gathered together in the Schaffer Library Plaza to celebrate the second annual Pride Fest at Union College. Several activities were available for anyone attending to participate in, in addition to information and resources for those who identify as LGBTQ+ at Union College. Activities ranged from Iris House's flag sorting game––in which participants had to identify which flags were for LGBTQ+ identities, and which were unrelated––to decorating cookies in the shape of rainbows to represent the pride flag.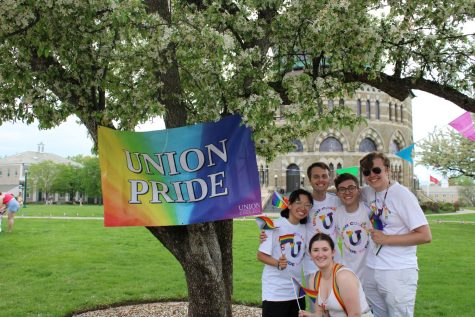 Union College's Pride Club is responsible for organizing and planning the event, with President Daniel Wilcox '22 explaining "Pride Fest welcomes all people to simply celebrate being themselves." Wilcox also spoke about how Pride Fest came to be after years of events celebrating LGBTQ+ community members, stating "this is the second year of Pride Fest, following a virtual Pride Week in 2020. Prior to that, we did an annual Pride Walk around Union's campus, welcoming all of the Union, Schenectady, and wider communities. Union Pride's previous president, Eva Erickson '21, worked with Christa Grant, the Assistant Dean for Intercultural Affairs, to revamp the Pride Walk into Pride Fest."
Wilcox, along with many other organizations, spoke to the Concordiensis about why Pride Fest is important to them. For Wilcox, Pride Fest "is a continuous reminder of the integration of LGBTQ+ people on Union's campus and in the wider world. For some people, this may play a small part in their identity, for others, it may be a massive part."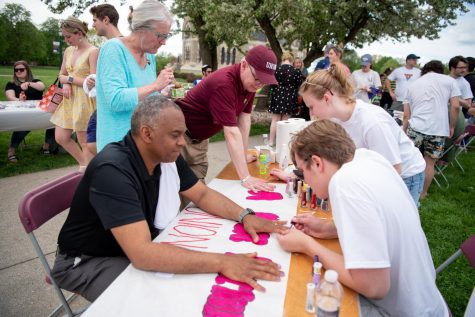 From the Union College Classics Department, Chairperson Stacie Raucci explained that "we want to support the LGBTQ+ community in the most visible way possible so that they know we are here for them." In addition, Visiting Assistant Nick Winters explained that supporting the LGBTQ+ community should be important for everyone, and that "for classicists in particular, the ancient world was queer as hell. There was homosexuality all over the place… it's an opportunity to understand how flexible and malleable gender identity and homosexuality were." He also mentioned that due to the age of the study of classics, it is important that the department uses its prestige to make its support clear and known.
Representing Greek life at Pride Fest, Ginde Baker '23 of Gamma Phi Beta and Nima Darafshi '24 of Kappa Alpha explained why supporting the LGBTQ+ community is important to fraternities and sororities alike. "Supporting the LGBTQ+ community in Greek life is extremely important because our organizations are based on philanthropy and community service. We're not really doing the best community service if we're not supporting all identities around us," said Baker. "I am personally a gay man, and I thought joining Kappa Alpha was a very comforting environment where I would be able to express myself in. Being a part of the fraternity, I feel I also have a job to be very inclusive and help others who may have questions or concerns about any type of homophobia or anti-LGBTQ+ discrimination," Darafshi added.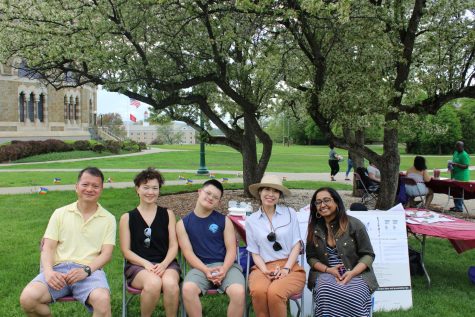 Pride Fest of 2021 featured Pride Club's then-President Erickson talking about how more change needed to be made for Union to be a safe place for LGBTQ+ students. Wilcox, when asked about how inclusive Union College is for LGBTQ+ students, explained that "I think there are improvements to be made, but the same could be said about any college campus, as well as in the wider community, and all around the world." These improvements, according to Wilcox, include "increasing the numbers of LGBTQ+ students, as well as encouraging a wider political understanding, and making intentional connections between the diversity of identities that Union's community has."