Union Men's Lacrosse Maintains Undefeated Season in Win Over Clarkson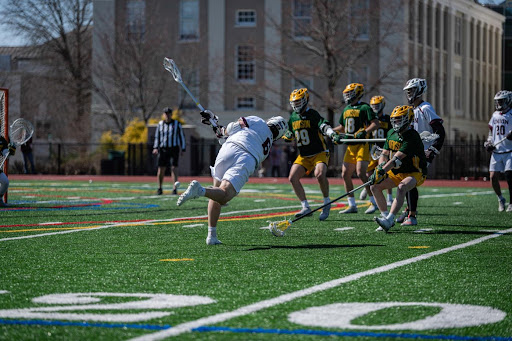 Union lacrosse had a big win this weekend over the Clarkson Golden Knights, improving
to a record of 9-0 on the season, the best record the program has ever had. The seventh ranked Dutchman were victorious over the Golden Knights, winning by a score of 15-11, and improved to 2-0 in Liberty League play.
Union came out of the gates fast against Clarkson, scoring the first six goals in the first quarter. Kieran McGovern '22 got the Dutchman going, scoring at 13:36 and 11:48. The onslaught then continued with goals from Keaton McCann '22, Jack Donahue '22, and two goals from Hayden Frey '22. These six goals surpassed the average goals allowed per game by Clarkson this season. Clarkson would respond with two goals of their own, keeping the game competitive. 
The Dutchman's dynamic offense would continue its attack in the second quarter, scoring another six goals. Union's Hayden Frey '22 would end Clarkson's two goal run by scoring his third goal of the game on the power play. The two teams would then trade goals for a time, with Clarkson scoring on slow methodical possessions and Union often striking quickly in transition and off faceoffs. Keaton McCann '22 would end the half strong, scoring another two goals and completing his hat trick with the latter coming with just two seconds remaining in the half. The final goal expanded the Dutchman's lead heading into the half, up 12-6. 
The Dutchman would let off the gas in the second half, being outscored 5-3 and allowing Clarkson to get back into the game. A slow third quarter saw Clarkson score two goals quickly at the start of the half, seizing the momentum. The Golden Knight defense also seemed to find its rhythm, holding Union to just one goal in the quarter. With a score of 13-8 entering the final frame, Union's Kieran McGovern '22 scored his fourth goal of the game. This, however, was not enough to turn the momentum back in the Dutchman's favor as Clarkson would go on a four goal run to shrink Union's lead to just three. With 3:23 remaining, the Dutchman desperately needed to stop the bleeding. An unlikely hero would emerge, as defenseman Clint Gourdeau '23 would score with just less than two minutes remaining to put the game out of reach. The Dutchman improved to 9-0, their best record in program history. 
The Dutchmen will travel to play two tough ranked opponents next week. On Wednesday, the men go to number 18 ranked St. John Fisher, before playing number nine ranked Rochester Institute of Technology on Saturday.