Current and Former Presidents of Union College's Dutchmen Dip Meet to Reminisce and Discuss the Splash of 2021
On April 5 2021, former presidents of the Dutchmen Dip met with current president, Adeline Nowicki '21 to reminisce on past "dips" and how the second year of the "Dutchmen Splash" would work. All previous presidents, current club member's, student activities and the campus community were invited to talk about the long lasting impact the dip has had since its conception in 2013. 
The event included former member's discussing how Colleges Against Cancer evolved from the college's previous involvement with Relay for Life, and how the power of the Union community propelled the initial "polar plunge" idea forward into an event that has created so many fond memories for Union students, faculty, staff and the community which they shared over the Zoom call.
Nowicki stated, "In having the creators of the Dip and CAC alumni, Kaitlyn Suarez '16 and Maria Dreeszen '14, come and speak, listeners were able to understand how the Union community came together to take their first icy plunge in support for Kristen Shinebarger on a cold day in March in 2013. To this day, the support of the Union community for the Dip and our mission has not wavered.  Throughout the nine dips and splashes, members of our community have shown up and supported both Colleges Against Cancer as well as the recipients of our fundraising or, most recently, the Shinebarger Memorial Scholarship for Kristen."
Students, faculty and staff can be seen creating videos splashing water on their heads in support of a virtual Dutchmen Dip experience. There was a great challenge to bring people together during the onset of the pandemic in the winter term of 2020, when the planning and decision whether to go virtual or not was occurring. Nowicki was among the few who decided to do a virtual splash last year which founded the basis for how the splash is being run this year. 
The Dutchmen Splash is still occurring during this upcoming week and donations are being accepted to the Shinebarger Memorial Scholarship. Instructions on how to participate and donate can be found on the Union College Dutchmen Dip Instagram account.  Nowicki says, "Any donation, no matter how large or small, works towards ensuring the longevity of the scholarship and our club's mission! Thank U if you have already splashed and if you haven't, we cannot wait to see U splash and give this week!"
About the Writer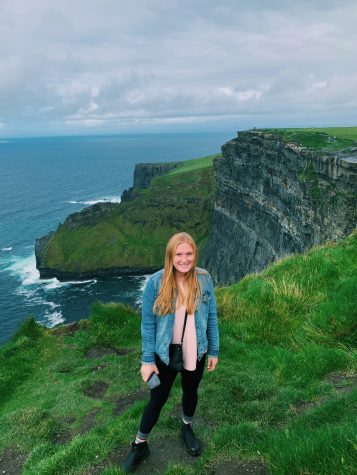 Sydney Lewis, co-News Editor
Sydney Lewis '21 is the co-News Editor for the Concordiensis. She is an English major with a Spanish minor. Outside of the Concordy, Sydney can be found...