Three new COVID-19 cases on campus, 72 quarantined
On October 28, the Union COVID-19 dashboard was updated to reflect that 72 students have been placed under quarantine and there are three students who have tested positive for the virus on campus. According to an email sent by the Union College's Director of Environmental Health and Safety (EHS)  Elizabeth Dobson-Davis, one of the students who tested positive had visited the Alumni Gym / Breazzano Fitness Center. Anyone who has been to the gym on Thursday, October 22 between the hours of 6:30-9:30 p.m is therefore at the risk of having been exposed to the virus, according to Davis.  It's important to note that 3:00 p.m. to 7:00 p.m. on the weekdays are the peak hours for the Alumni gym and students need to preregister to have  access to the gym facilities. College spokesperson Phil Wajda told Concordiensis that within the aforementioned timespan 41 students had been inside the building.  
This rise in cases comes just a few days after Dean of Students, Fran'Cee Brown-McClure had informed the campus community via email, of "two large parties", one off-campus and another on-campus, that took place at Union putting the larger campus community at risk.  She had also mentioned that a student who traveled to a restricted state, did not inform Union and resumed campus activities without the mandatory 14-day quarantining. "Students found to be in violation of Union's health and safety protocols are referred to the student conduct process, which can result in consequences up to and including dismissal from the College," Wajda told Concordiensis. FranCee mentioned that these situations are being "addressed properly." She further warned students that this behaviour can be detrimental to the health of the entire community and can lead to superspreader events. 
Meanwhile, Davis has asked all the students who had visited the gym on October 22 between the hours of 6:30 – 9:30 p.m. continue to keep monitoring their health and contact the Schenectady County Public Health Services at 518-386-2824 in case of any health emergencies. In addition, she said  "all community members engaging with campus should be completing the daily health screening in emocha and reporting any symptoms." With Halloween weekend just around the corner, the Office of Community Standards also reminded students in an email that "all policies within the Student Conduct Code and the COVID-19 Policy Agreement are in effect during Halloween."
About the Contributor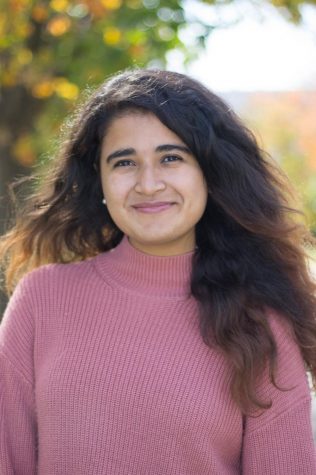 Akriti Dhasmana, co-Editor-in-Chief
Akriti Dhasmana '22 is the co-Editor-in-Chief for the Concordiensis. She is a Computer Science and English double major. She is also a Math Minor. Apart...