Quarantine Diaries : We can adjust to it!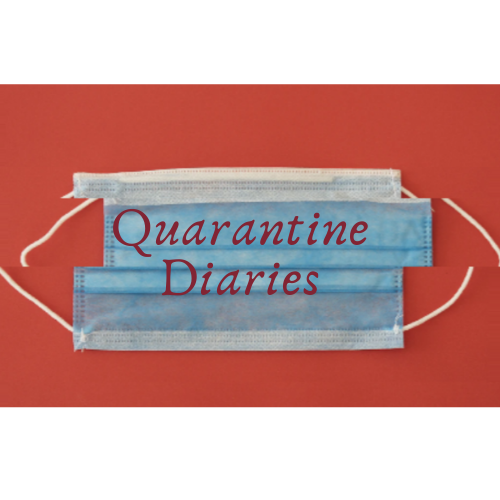 Name: Christos Kakogiannis
Class Year: Sophomore
Home Country: Greece
Where you are currently: Greece
What was your experience trying to get home?
Me and two other students from my home country decided to fly together at the earliest possible day. But it was a risk: if we left the country we wouldn't be able to come back due to the travel restrictions. In this scenario, we could have missed the term, had the college decided to reopen in April (at the time, no firm decision had been made for the entire term). We were somehow relieved after we found a flight and we started packing our stuff in order store them, while saying goodbye to the few remaining friends on campus. It was such a sad moment to see the entire campus almost empty! Winter term ended so abruptly! On our trip back home we had connecting flights in Montreal, Canada, and Frankfurt, Germany, before reaching our home town, Thessaloniki, Greece. Traveling home was quite an experience. The most stressful moment of the trip was when our transit flight from Montreal to Frankfurt got delayed twice. It was around when the EU halted international flights, so we were afraid that we couldn't fly back and that we would be stuck in Canada. Fortunately, the flight went ahead and we arrived in our home town. This is when we were fully relieved. At the same time, we were all thinking back on our friends that were traveling home and especially those that would stay on campus. Some of them couldn't even return back to their families!
What has been the hardest thing about this online term so far?
I believe the hardest thing about online classes is staying connected with your classmates. We are all in the same Zoom room, yet it is very awkward when we have to discuss a topic or answer a question that is asked by the professor. I'm sure that everyone misses studying together, too. Sitting down together in the library, or in Wold, or in ISEC cannot compare to sitting in your room at your house and trying to study over Zoom with your classmates. The struggle of studying together for an exam doesn't even feel the same.
How have you adjusted to this unexpected situation?
In the beginning, it was very hard to move out from campus, return home and attend classes online. However, now it doesn't seem to be that bad. Being with my family and having their support was crucial in trying to get through the entire online-classes situation. At home, I fixed my sleep schedule, I had the chance to eat nice home-cooked food once again and chat with my parents. Also, since I had to stay in for the entire spring break, it was a great opportunity to catch up with hobbies. I spent most of the break playing and composing music, reading books, watching series, talking to friends and playing with my dog. A pretty safe and relaxing quarantine schedule! After classes started, it was not so difficult to set up a good study schedule and follow it: just a few hours of studying every morning and then attending classes in the afternoon. This happens because the local time in Greece is ahead of NY time, so my classes are in the afternoon. The rest of the day is free to spend with parents or doing hobbies. Once most restrictions were lifted in my country and since it was very sunny and hot in May, I had the chance to see some of my high-school friends and spend time with them. It felt surprisingly fulfilling to see them again especially when I was expecting to be in another country! So overall, I was trying to keep it up during quarantine!
How is your country affected by the current COVID-19 pandemic?
The first cases of COVID-19 in Greece were reported in late February, so most of the festivities for the carnival and the pre-Easter celebrations were cancelled. Then, most non-EU flights were cancelled and in late March quarantine was put into place by the government: all non-essential businesses were closed and all unnecessary people transportation was forbidden. During the quarantine, people could go out only to their workplaces if needed, to the stores, which were well-stocked at all times, or for personal training. A short walk around the neighborhood is what kept me alive during the quarantine! The Easter and May-1st (Labor Day in Europe) celebrations did not happen, as gatherings were not allowed. These are very important cultural holidays, so it was odd that all such festivities were cancelled. After an entire month in quarantine, Greece began to handle cases of COVID-19, and in early May quarantine was over. After this, most places started reopening, however social distancing remained to avoid a new wave of COVID-19 cases. As of now, most stores, malls, schools and restaurants are open and are practicing social distancing, while every day there are *only* few new cases.
What are you looking forward to most about coming back to Union in the fall?
I hope we open again safely in the fall! I am looking forward to seeing my friends from around the world again, making new friends and having new experiences with them all! I am looking forward to go to my favorite clubs, e.g. club basketball, the chess club, and attend more clubs! And I can't wait to see the beautiful colors of trees in October!
What would you say to other Union students about coping with the current pandemic, and making the most of this current situation?
The situation in which we are all living is new and nobody had predicted it. Yet we can adjust to it! Trying to turn the difficulties of life into opportunities and trying to find the good in all situations is the way to cope with the pandemic. It is not easy but we can do it!