Senior Spotlight: Annika Eberle
Q: What made you choose Union College?
A: I thought it was a place where I could belong while also being challenged academically and socially.
Q: What does a being a Union student mean to you?
A: Being dedicated to your studies while also daring to explore and try out new experiences.
Q: What have you been involved in on campus?
A: Alpha Phi Omega, LGBTQ+ Affairs Committee, U-Sustain, Union Pride, Environmental Club.
Q: What is your favorite memory from your time at Union?
A: All of the ridiculous shenanigans my friends and I got up to!
Q: What is one thing you will miss about Union?
A: My friends, the neuroscience/psychology departments, and English departments!
Q: How are you spending your quarantine?
A: Finishing my senior thesis and video-chatting my friends!
Q: If there was one thing you wish you could've done while you were at Union, what would it be?
A: Had a senior spring on campus and say real goodbyes to my friends and professors. I would have really liked that closure.
Q: If you had the option to return to the campus right now, what is the first thing you'd do?
A: Go up to the dragonfly lab in Butterfield (where I used to have work-study). It's probably all cleaned out right now, but it served me well for four years, and has a ton of sentimental value. Then I'd buy some snacks and have a movie night with my friends in Breazzy 305.
Q: Who's one person you're grateful to have met at Union?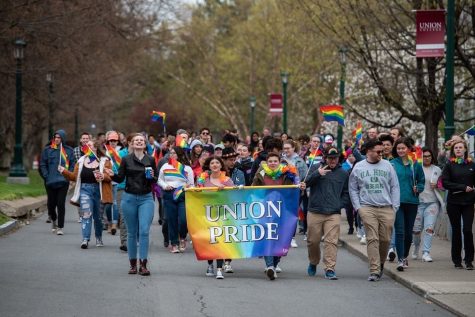 A: Pretty much everyone. They all played a role in my growth as a Union student.
Q: Any encouraging words for those who are just beginning their journey at Union College?
A: You're not alone. I know it all seems overwhelming right now, but there are plenty of people willing to help you if you ask. And no, asking for help is not a sign of weakness. Most people will respect the honesty and initiative.