Senior Spotlight: Jane Jung-Chen
Q: What made you choose Union College?
A: I thought Union was the best liberal arts school with great STEM programs, and it is!
Q: What does being a Union student mean to you?
A: Being a Union student always gives me pride.
Q: What have you been involved in on campus?
A: I was a research assistant and peer leader for the Body Project, Sister of Gamma Phi Beta, student worker at the Wicker Wellness Center, a member of BIWED lab, student onsite coordinator for Social Justice Retreat, and Minerva House orientation leader.
Q: What is your favorite memory from your time at Union?
A: One of my favorite memories is definitely the ones with my best friends Darnesjia and Jacque. I am very thankful to have them as my best friends and also very thankful for Union for bringing us together.
Q: What is one thing you will miss about Union?
A: I think I will miss the Wicker Wellness Center staffs the most, they helped me get through the 4 years by always being supportive of me.
Q: How are you spending your quarantine?
A: I am spending my quarantine with my husband, my dog Eva, and my cat Peony.
Q: If there was one thing you wish you could've done at while you were at Union, what would it be?
A: I always wanted to be a part of the student government and I wish I was.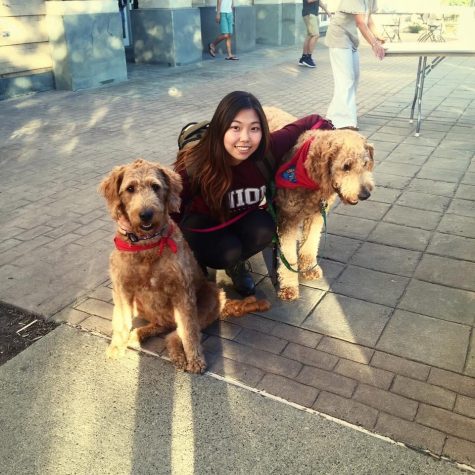 Q: If you had the chance to return to campus right now, what is the first thing you would do?
A: I miss my best friends Jacque and Darnesjia so much! The first thing I would do is to hang out with them!
Q: Who's one person you're grateful to have met at Union?
A: I cannot just pick one person, but I have many: My friends Jacque and Darnesjia, Nalani, Patty, Angela, and Diane from the Wicker Wellness Center, and my advisor Professor Walker.
Q: Any encouraging words for those who are just beginning their journey at Union College?
A: Try as many things that Union has to offer as possible! There's no harm in exploring during your college years!
Q: Is there anything else you'd like to share with us?
A: I will be attending a Masters Program in Mental Health Counseling (still deciding on which school to attend) and I am very grateful for faculties, staffs and my friends at Union who helped me through my toughest times. Without them, I wouldn't have made it this far.