Georgia men arrested for Arbery killing
On May 7, two men from the state of Georgia George McMichael, and his son, Travis, were arrested for the murder of jogger Ahmaud Arbery, The New York Times reported. This arrest came two days after a video of a confrontation between the three men was posted, where the McMichaels seem to be trying to perform a citizen's arrest on Arbery, who was out for a run. Mr. Arbery was killed back in February, but there were no arrests made before the video footage was released.
The McMichaels claimed to have seen Arbery near a house under construction, and suspected him of burglary. Without alerting local law enforcement, they armed themselves and began a pursuit of the twenty-five-year old black man. The released video shows Arbery on his run before coming up to a white pickup where the McMichaels were waiting. He attempted to run around them, but one on the ground attempted to stop him. At this point, a fight commenced before a gunshot could be heard.  ABC News released several videos of people wandering on the same construction site that Arbery did. It included another African American man, a white couple and groups of children. Nothing was stolen or vandalized in any of these encounters, nor were there any calls to the police, or citizens arrests.
The New York Times reports that there were three different recusals from three different prosecutors before talks of a grand jury began. This was due to concerns from the Arbery family, due to George McMichael's career in law enforcement, and his connections to the local District Attorneys. One of the recused prosecutors, George Barnhill, wrote a letter to the Glynn County Police Department that endorses the attempt at a citizen's arrest, and gives the opinion that there should be no arrest of the McMichaels. He cites Georgia's state law on open-carry, pedestrian apprehension of suspects and self-defense.
Following the arrest, Georgia Bureau of Investigation Director Vic Reynolds gave a press conference. When asked by the present media if there would be hate crime charges, he noted the lack of laws that give prosecutors that option. "There's no hate crime in Georgia. There isn't. It's one of, I think, four or five states left in the Union that doesn't have a hate crime." According to their website, the FBI defines a hate crime as a "criminal offense against a person or property motivated in whole or in part by an offender's bias against a race, religion, disability, sexual orientation, ethnicity, gender, or gender identity." Justice Department statistics lists twenty-eight cases of what the federal government considers a hate crime taking place in the State of Georgia in 2018.
About the Contributor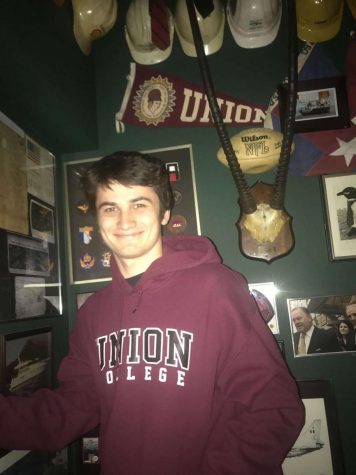 Chris Doyle, World /Business Editor
Chris Doyle '21 is the Editor of the World News Section for the Concordiensis. He is an English major from Shelter Island, NY. When not reading or writing,...