Women's Basketball Team Awards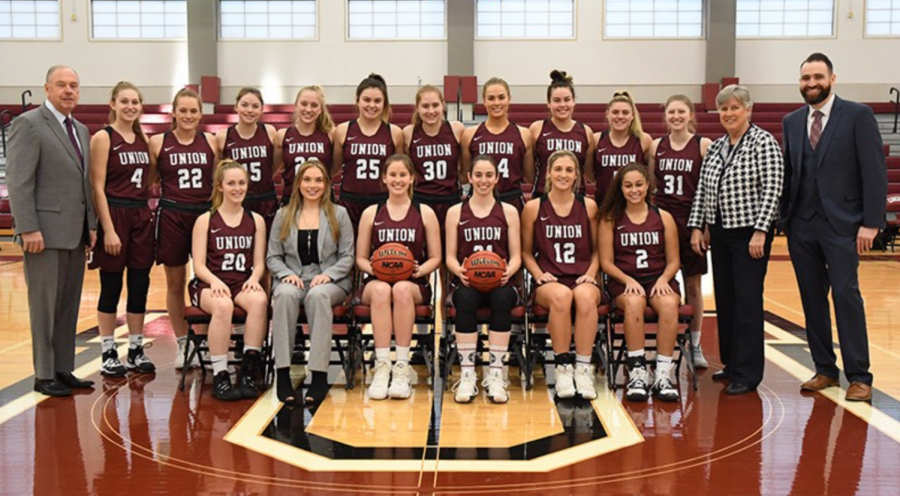 Annie O'Donnell, Columnist
May 4, 2020
The Union College Women's Basketball team announced its 2019-20 team awards this weekend. Four players earned honors for their play on the court and in the classroom. The team took to social media over the weekend to announce the winners of the Academic Excellence, Most Improved Player, and Most Valuable Player Awards.
Amber Raisner '22 earned the team's Academic Excellence Award. Raisner led the Dutchwomen in grade points and actual points this season. In the classroom, the neuroscience major boasts a 3.90 cumulative GPA and was given Union's Freshman Scholar-Athlete of the Year award last year. On the court, she averaged 10.4 points per game and also led the team in assists and three-point goal percentage. She also ranked second in steals and blocks and third in rebounds. Her best game of the season came against Skidmore College on February 7, when she scored a career-high 24 points on 8-of-13 shooting while grabbing eight boards and three steals.
Laura Vinton '22 was named the team's Most Improved Player for the 2019-2020 season. Vinton was the only Dutchwoman to start all 24 games this season in her first year as a starter. She led the team with 153 rebounds and also ranked third with her 8.1 points per game. The forward showed her progression early in the year with a career-best 14 rebounds against St. Lawrence University on December 7, then went for a career-high 16 points on 6-of-9 shooting in a win over Rensselaer Polytechnic Institute on February 1.
Joana Santos '20 and Elly Vaughan '20 shared the team's Most Valuable Player award. Santos and Vaughan were the two on-court leaders for Union this season, ranking second and third on the team, respectively, in minutes played. Vaughan averaged 9.0 points and 6.6 rebounds per game to go with a team-best 37 blocks. She also provided the highlight of the year with her buzzer-beating three-pointer to knock off Vassar on January 18. Her achievements were also recognized off the court when she received the Liberty League All-Academic team honor for the second year in a row. Santos continued her role as one of the top defenders in the Liberty League this season.  She stepped up on the offensive end, netting a career-best 7.9 points per game and hauling in 77 rebounds to go with 28 assists. 
The players and coaches will miss Santos, Vaughan and Hailey McCall, '20 in the upcoming season, but they reassure fans that they have built a strong core of returning players for the upcoming seasons.