"EMBODY" artist delivers transformational performance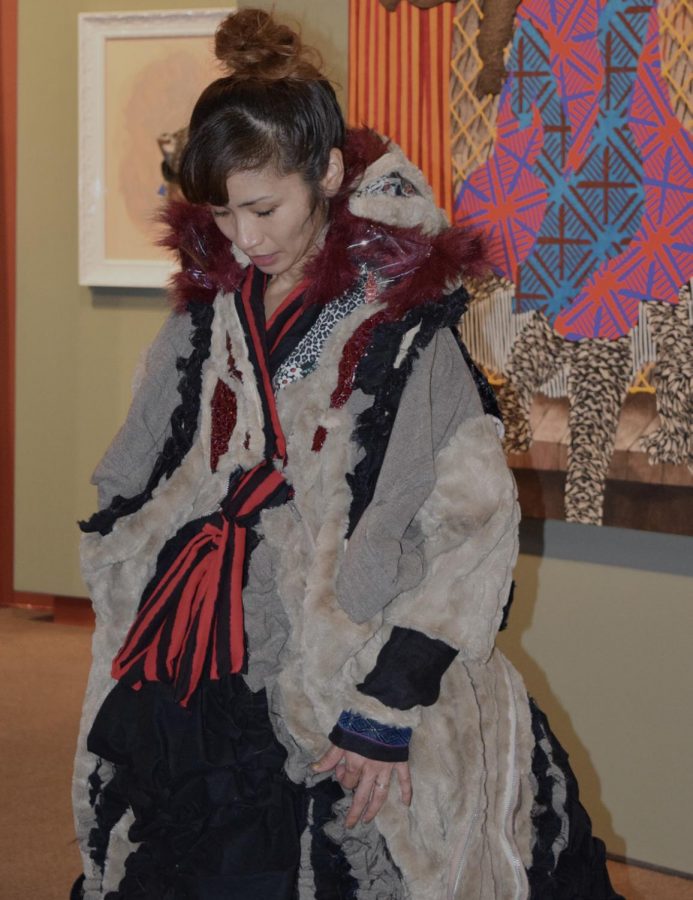 Bernadette Bruu, Arts Editor
October 10, 2019
How do you conquer your biggest fear? This was the question that provoked multimedia artist Ari Tabei to undertake her latest project, an art installation and accompanying performance for Mandeville Gallery's fall exhibit "EMBODY." The exhibit as a whole pays tribute to concepts developed by the iconic artist Wangechi Mutu, namely how bodies deemed 'other' are distorted and controlled by forces of exploitative cultural hegemony. Tabei's take on this is an exploration of her long-held pathological fear of insects. Through mixed-media collaging on both the literal and figurative planes, she shared with spectators a personal journey like no other.
The piece on display on the second floor of the Nott is not immediately discernible as one object, or even one form of art. It bears the closest resemblance to a garment, like a long cloak that blurs the line between royalty and deity. Some elements are structured and unmalleable in nature, while others are soft and fluffy — velour and fake fur can be found within an inch of industrial-size zippers and shiny clear plastic.
The artwork confounds the viewer in its refusal to be classified under any restrictive category. As a garment, it projects an unsettling but entrancing contrast; it's a mystical post-apocalyptic quilt that you can wear.
And she does wear it. During Tabei's performance on September 28, she removed the cape-like art piece from the hooks that displayed it, turning the process of putting it on into a sort of interpretive dance performance as she did it. However, unlike mainstream interpretive dance, no motion was without purpose or 'just for show.'
Over the course of forty-five minutes, she transformed into something that was equal parts foreign and completely of her own making. Her initial outfit looked something like a page costume, having fashioned red and black velour into a loose top and billowing shorts. Large red circles were sewn into the back of the bodice and the sides of the shorts.
Dressed as such, she ascended the Nott stairs to the second floor multiple times to bring the garment down in pieces. Once everything was assembled on the tile in the center of the first floor, she arranged it purposefully around the circle, letting pieces intermingle with spectators of the event. Then, one by one, she visited each 'station' to put on another layer of the unconventional outfit.
Spectators began to realize that she was imitating the life cycle of a bug, right down to abstract representations of its most striking anatomical features. The type of insect was left somewhat open to interpretation. Certain creations resembled spiders' legs while others took the form of a beetle's shell, and Tabei's movements varied in speed and aggression.
At the end, Tabei was positively unrecognizable, draped in the innumerable fabrics she had sewn together then layered on top of each other. Her body acted as a canvas that changed fundamentally by the end of the performance. Notably, the last thing she put on was a mask/headdress hybrid that obscured her entire head. Half of the mask was taken up by two gargantuan red 'eyes,' with the resulting appearance forming the final part of her transformation into the insect that she feared so much. She finished the performance by making her way to the second floor once more, with the intent to put it all back in place on the installation wall after keeping it on to greet spectators at a short reception.
In my interview with her after the performance, Tabei elaborated on the signficance and symbolism of the artwork, which she created specially for this exhibit. In her view, power relations are at the heart of the relationship we have with the world around us, and consequently inform our internal world as well. Specifically, Tabei was captivated by ideas of powerlessness despite proximity to power, such as the paradoxically slave-like role of a queen ant or bee, or a priestess's lack of tangible political influence notwithstanding her status as a spiritual authority.
She thinks out loud, quickly and insightfully: "Eastern thinking is that [true] power is one step away from it… What's the real power? Maybe it's about how you surrender power. I'm interested in non-central power systems. The key is not to become the power itself – it's about surrounding yourself with power in order to see it. Or maybe the power isn't there at all."
Tabei's work is on display as part of the "EMBODY" exhibit in Mandeville Gallery through January 19, 2020.