Greek life has significant turnout for John Calvin Toll Day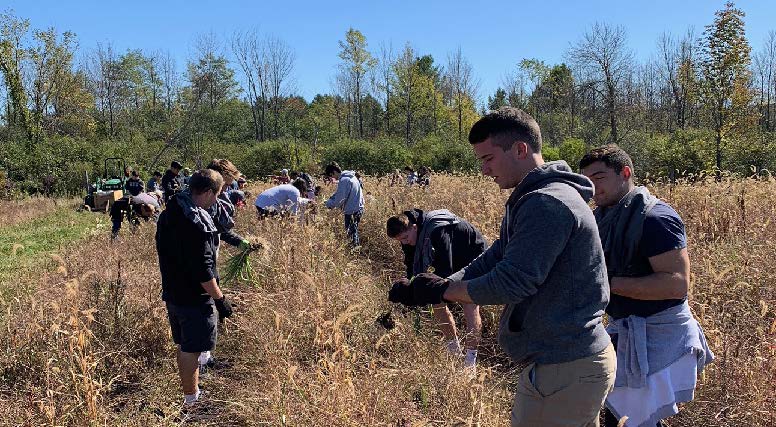 Paul Bacchi, Opinions Editor
October 11, 2019
Greek organizations made a strong turnout for the 14th annual John Calvin Toll Day, a campus-wide day of community service where students volunteer in groups at a variety of charitable organizations throughout Schenectady and the local area. This year, the event took place on Saturday, October 5 and encompassed 18 different sites.
"Greek organizations are always well represented at Toll Day. I think it is convenient timing for an activity for their new members," Associate Director of Community Outreach Janet Sweeney said.
135 of the 326 people who registered to volunteer for John Calvin Toll Day were members of Greek organizations, accounting for 41 percent of the volunteers, according Sweeney. "[This year] volunteering by Greeks [in this event] is steady or a bit lower [compared to previous years," Sweeney said.
This year, Alpha Delta Phi volunteered at the Vale Urban Community Farm, where Brothers weeded and mulched flower beds, composted dead plant material and cleaned out old flower beds to prepare them for the coming year which helps the Vale Urban Farm's mission to grow food for members of the community who cannot afford to feed themselves.
Kappa Alpha (KA) had Brothers at two different locations: The Nature Kill Preserve and the Schenectady Museum of Science. "We helped stop the spread of one [invasive] species called Oriental Bittersweet… Overall, I was happy to see a lot of volunteering both in and out of Greek Organizations. I think everyone that did participate really enjoyed it!" Andrew Giovanni '21 said. Giovanni volunteered at the Indian Kill Nature Preserve.
KA Brother Casey Lee '20 travelled to the Schenectady Museum of Science and Innovation, about which he said that "all of the volunteers set up for the new exhibit, 'Insatiable: Cooking Up Innovation.' It was both fun and fulfilling providing a new center for children and people of all ages to learn about the evolution of cooking, food culture and the science within the kitchen. I was also able to make new friends and we hopefully created long-lasting bonds with each other through our positive experience at MiSci.
"I am very excited to visit the exhibit for its grand opening, October 12, and see all those in attendance enjoying the hard work of all of the Union College volunteers."
Sororities participated in community service as well: Aly Silbey '20, a sister of Gamma Phi Beta, commented that "this is the second time I participated in Toll Day and have always enjoyed it. It is a great way to bond with both Union Students, Greek and non-Greek affiliated, as well as with the residents of the Schenectady area, while doing something good for the community. All Greek organizations encourage participation on the day and usually get a very respectable turnout. As a member of Gamma Phi Beta, we are consistently one of the most active organizations and I am proud to have done my part to help."
Union is also affiliated with Alpha Phi Omega (APO), a national coeducational service fraternity that worked at the Patroon Land Farm. "[At] Patroon Land Farm we helped harvest crops that will go directly to the Food Bank, because they really need the extra hands to be able to pick everything before the frost sets in," Lindsey Randle '20, a site leader for the farm and a member of APO said. "While we are students here at Union, we are living in Schenectady and we have an effect on the community and vice versa. I believe that it is important to give back."