Football sits at perfect record after win on Saturday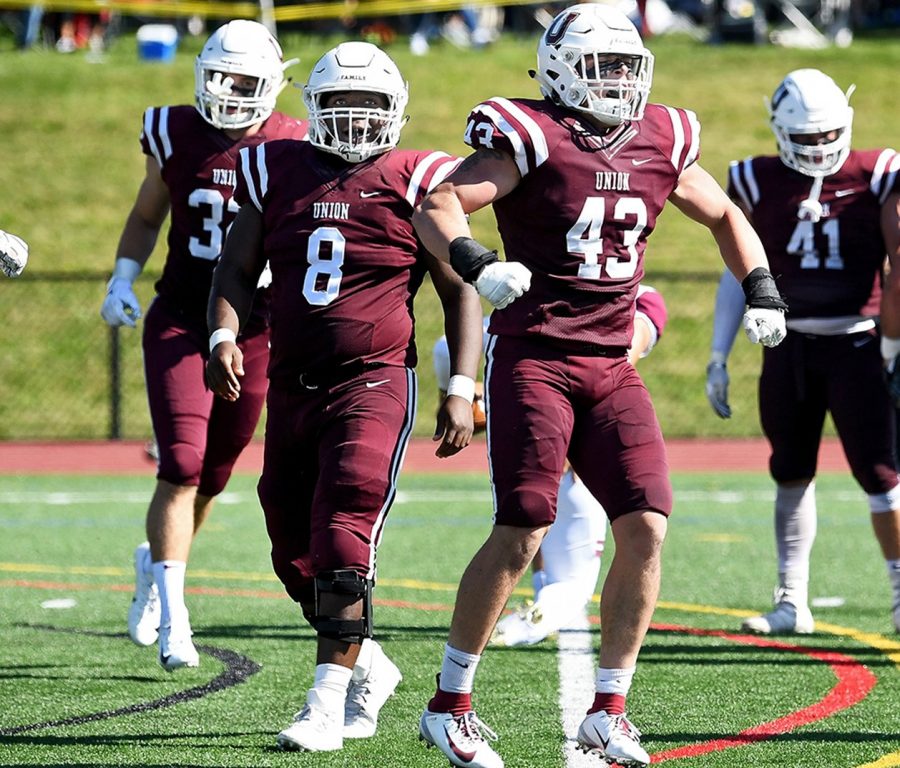 Annie O'Donnell, Columnist
September 26, 2019
On Saturday, September 21, the football team hosted the Springfield College Pride at Frank Bailey Field at Bertagna-Class of 1985 Stadium.
A strong Dutchmen defense helped lead the Dutchmen to a 27-17 win. Union improves to 3-0 with the win, while Springfield falls to 1-2.
The Dutchmen defense kept Springfield to only 234 yards of offense, while intercepting one pass and recovering two fumbles on their way to victory.
The Dutchmen were forced to punt the first drive of the game, however they recovered and pinned the Pride inside their 10 yard line.
On just the second play of the possession, Springfield fumbled the ball into the endzone and Evan Gilland '20 recovered it to put Union on the board. This was the first defensive touchdown that the Dutchmen scored this season.
In the The Dutchmen defense kept the Pride out of the endzone for the whole first half of the game.
Less than five minutes into the second quarter, Ike Irabor '22 scored the second touchdown of the game off of a 10 yard rush.
With just 30 seconds left in the half, Justin Ferreira '22 scored the third touchdown for the Dutchmen off of a 10 yard rush.
Springfield's only points on the board heading into halftime were from a field goal in the first quarter of the game. The Dutchmen were ahead 21-3 going into the second half, with the Pride gaining just 75 offenive yards in that time.
The Dutchmen kept their scoring streak rolling with another touchdown by Ferreira half way through the third quarter.
The Pride finally broke past the Dutchmen defense in the beginning of the fourth quarter, scoring their first touchdown of the game off of a Dutchmen fumble.
The Pride managed to score once more before the end of the game, making the final score 27-17.
Quarterback, William Bellamy '21, completed 19 of 30 passes for 180 yards. Irabor led the Dutchmen with 88 yards rushing and one touchdown.
Ferreira scored two touch downs for Union and totaled 52 yards on the ground. Colin Lama '21 led Union with 15 total tackles, including one for a loss of nine yards.
George Reed '20 had three tackles and one interception for eight yards.
The Dutchmen won't play next weekend, but then open Liberty League play the following Saturday, Oct. 5, hosting Hobart for a noon kick off.