Introducing Joyce August: first Woman of the Week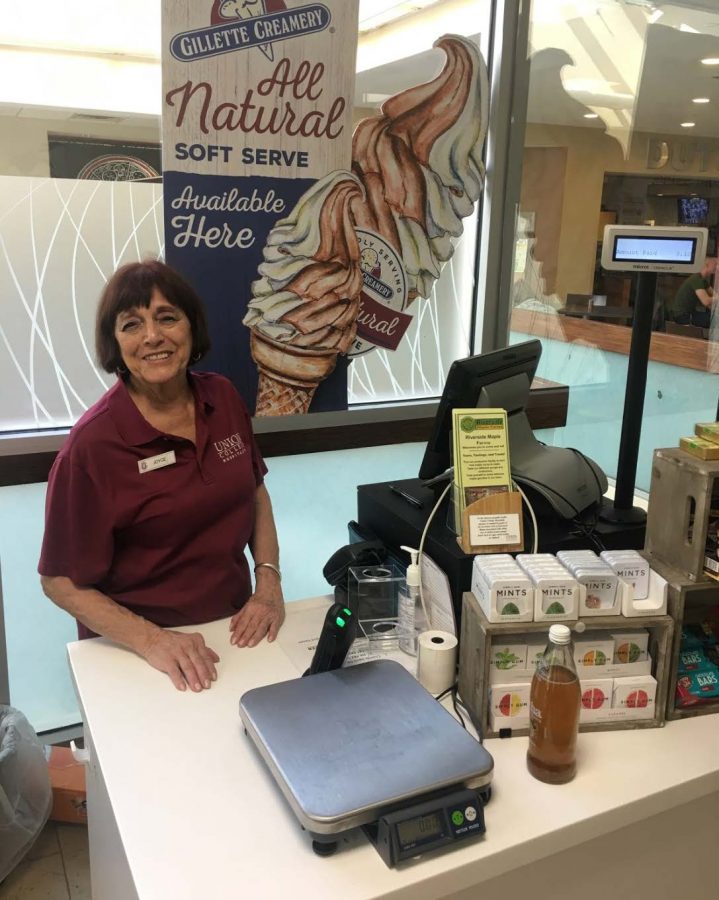 Marcy Forti, Contributing Writer
September 26, 2019
Joyce August's role on campus:
August is a beloved faculty member here on campus. She works with Dining Services in Reamer. Typically, she can be found in either Dutch or Union's Market.
Why was she nominated?
August was nominated by Sarah Barnes '22 who commented the following: "Joyce is a pure light. I go to the market for lunch just so I can talk with her. She knows the name of every student that walks in and if she doesn't know you initially she makes sure to get to know you. We share how our vacations went, health regimens and anything funny that happened to us that day. She is truly a friend and embodies the attitude of Union College. Last year when I was a freshman, I found comfort in talking with Joyce because she made me feel more at home and that I had someone who would be there for me. Most students on campus know who Joyce is and she stands out among the staff in reamer. She is truly deserving of this award."
What are your proudest accomplishments?
August's children – a daughter and two sons – are her proudest accomplishments. Her daughter, the oldest, is a modeling agent. Her eldest son is a musician with a master's degree from Julliard and her other son owns his own mechanic business, which he had aspired to have from a young age. Joyce commented that he "was born with a screwdriver in his hand."
What are you passionate about?
August watches a lot of baseball and football – her top three favorite teams are the Yankees, the Green Bay Packers and (last but not least) the Knicks. She also watches a lot of the athletic events at Union. Joyce noted that she tries to go to the hockey and football games whenever she can.
In addition, August is also an avid music fan. In the market, she constantly plays her favorite music (classical, jazz and classic rock) by the register. She is friends with some of Union's music professors and also tries to attend student concerts whenever she has the time.
Finally – and very fittingly – she is passionate about nutrition.
Who do you look up to?
She looks up to Michelle Obama and her family. Moreover, to Joyce, there are also lots of professors she thinks are wonderful.
What does being a woman at Union mean to you?
August noted that "a lot of times it means I wish I was a young student here." She grew up locally when Union was an all-boys school.
This article is part of a series being written by the Women's